SAN ANTONIO CLASS LANDING PLATFORM DOCK
(LPD-17)
United States
- Thanks to 'Werewolf'
| | |
| --- | --- |
| LPD - 17 | USS San Antonio |
| LPD - 18 | USS New Orleans |
| LPD -19 | USS Mesa Verde |
| LPD - 20 | USS Green Bay |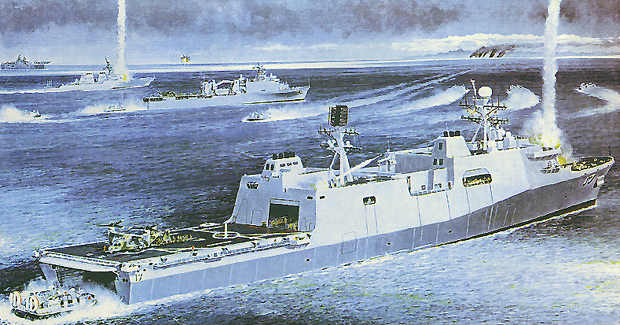 Replacing many of the older and less flexible landing ships, the San Antonio is one of, if not the, most modern landing ship in the world. Capable of carrying a variety of assets, the LPD-17 is unhindered by the need for specialized protection units. Even the Army has contracted a ship for expanded amphibious operations.
As most of the world's warfare is accessible by shoreline, the landing ship has found new life and capability.
'San Antonio Leads The Way' Painting of the infamous landing of USMC's on the South Africa Coast in 1997.
| | |
| --- | --- |
| Travel Move: | 18/18 |
| Fuel Cap: | 25 402 |
| Fuel Consum: | 255 |
Armament:
2x 21 Cell RAM SSM Launcher

2x 30mm Bushmaster Autocannon

Config:
Vessel
Tonnage:
25 295
Ammo:
42x Sea Slam SSM, 402x 30mm
Propulsion:
4x Diesel Engines into 4x shafts
Fuel Type:
G, A, D
Length:
227 meters
Draft:
2 meters
RADAR Sign:
2
Speed:
30
SONAR Sign:
1
Turn:
3
Hull Armour:
10
Acceleration:
1
Waterline Armour (x2):
16
Pumps:
6
Superstructure Arm:
16
Night Vision:
White Light, Radar, Active Sonar, VR, IR
Size:
4
Load:
756x Troops; 25x Vehicles; 3x LCAC
Full Speed:
20 boxes (ea. box = 422 float. hits)
Min/Opt Crew:
97/422
Dead In Water:
20 boxes (ea. box = 422 float. hits)
Mnt:
13
Sunk:
20 boxes (ea. box = 422 float. hits)
AirWing
Aircraft
1x V-22 Cargo plane
Helos
1x CH-53 helo
2x CH-46 helos
3x AH-1Z Gunships