Sikorsky MH-53H Pave Low III
United States
- Thanks to 'Werewolf'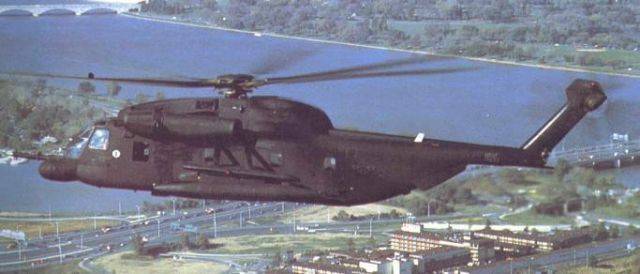 In the later part & early part of the 20th/21st century most wars were low key commando actions. The MH-53H is a Sea Stallion rebuilt for deep Commando insertions the Pave Low has a variety of radios & radars.
All weather flight capability and has a complete EW suite, and has in-flight refueling capability.
Variants
CH-53A Sea Stallion: Workhorse of the US Navy
CH-53D: US Marine Corps workhorse
HH-53B Super Jolly: Search and Rescue helo of the US Air Force
HH-53H Super Jolly: Night SAR and COIN helo of the US Air Force
MH-53E Sea Dragon: MCM helo of the US Navy
MH-53H/J: Basic helo for export
RH-53A Super Stallion: US Marine Corps helos on loan to the US Navy
RH-53D Super Stallion: US Navy helos for AMCM
VH-53D: Two (2) US Marine Corps on loan to White House
| | |
| --- | --- |
| Travel Move: | 1 280 |
| Combat Move: | 35 |
| Fuel Cap: | 7 635 |
| Fuel Consum: | 3 400 |
Price:
$ 32 000 000

($ 12 600 000)

Combat Equipment:
Chaff/Flare, FLIR, Radar, GPS, Twin Engine, Laser Designator, Stealth, Fully Amphibious, In-Flight Refueling
Armament:
2x M2HB, 2x M60 (Door Guns)
Ammo:
500x 12.7mm, 5 000x 7.62mm N, 4 Hardpoints
Fuel Type:
AvG
Weapon
ROF
Rng
Ammo
Damage
Pen
Load:
1 700 kg on 4 hardpoints, 22 000 kg Internal or Slung
M60 (x2)
5
125
7.62mm N
4
2-3-Nil
Vehicle Weight:
19.85 Tons
M2HB (x2)
5
150
12.7mm
8
2-2-3
Crew:
6 + 47
Mnt:
22
Min Take Off/Land
48
Sikorsky MH-60E Pave Hawk
United States
- Thanks to 'Werewolf'
The 'James Bond' model of helo, the MH-60E Blackhawk, or Pave Hawk is used for SAR and long range Special Operations missions, including use by the CIA. It is equipped for aerial refueling, long range fuel drop tanks, cold weather flight, and a 270 kg rescue hoist.
| | |
| --- | --- |
| Travel Move: | 1 380 |
| Combat Move: | 29 |
| Fuel Cap: | 4 250 |
| Fuel Consum: | 3 500 |
Price:
$ 24 000 000

($ 11 250 000)

Combat Equipment:
Chaff/Flare, GPS, In-Flight Refueling, Twin Engine
Armament:
2x M134, 2x M2HB
Ammo:
6 000x 7.62mm, 1 000x 12.7mm
Fuel Type:
AvG
Weapon
ROF
Rng
Ammo
Damage
Pen
Load:
2 000 kg Internal, 7 800 kg Slung
M134 (x2)
100
90
7.62mm N
4
2-3-Nil
Vehicle Weight:
8.19 Tons
M2HB (x2)
5
150
12.7mm
8
2-2-3
Crew:
4 + 10
Mnt:
18
Min Take Off/Land
48