Transmission bunkers in Belgium
At De Panne and at Roeselare the Germans built two SK bunkers for a telephone-exchange.
The one at De Panne is a St bunker while the bunker at Roeselare is a Vf with walls of 1 m.
Both bunkers have a common characteristic.  They have a circular defence room on the edge of the bunker with three loopholes.  From outside it looks like the dome above the observation slid of a 636.  Absolutely photogenic !
The Roeselare bunker has an extra semi-circular defence room on the back with two loop-holes. Inside this one the walls are all of brick.  That's the reason they probably did not build it in St.
You can see this one at the St Hubertusstraat 51 at Roeselare.  It is visible from the street but if you want to see the interior you have to ask the restaurant who is the owner of the site.
<![if !vml]>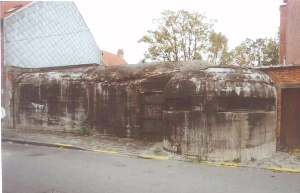 <![endif]>  <![if !vml]>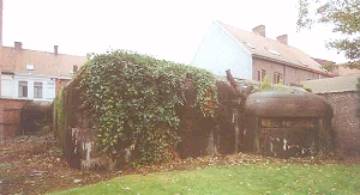 <![endif]>
The bunker at Roeselare; street view and garden view
<![if !vml]>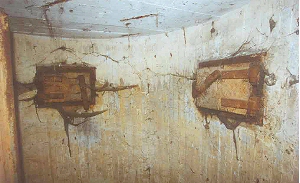 <![endif]>
Inside the circular combat room.
At De Panne the  new owners have built a house on it and re-used the bunker.
It stands at the Lijnvissersstraat which is a side-road from the road from De Panne to Veurne.
<![if !vml]>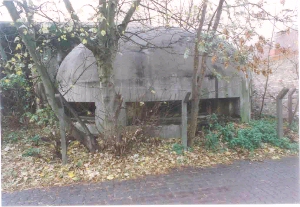 <![endif]>  <![if !vml]>

<![endif]>
The bunker at De Panne