The fieldbattery of Zandvoorde
This battery is situated to the south of the former rail-road dike and to the north of Zandvoorde along the Grintweg.
Initially it consisted of four large open emplacements, one Vf bunker and a few brick bays.
The open emplacements were constructed in brick and covered with a layer of concrete, (except in the case of the fourth). They have a large entrance for the gun and on either side, a small entrance for the personal. The entrances for the personal have a chicane shape. Four cut-outs for ammunition or personal equipment complete the emplacement. Two of the four emplacements are a mirror image of each other.
A map dated the 19 Nov 1942 shows that the 2. Battery of 139. AR of the 39. ID was located here with 4 10.5 cm guns. A map dated 1943 shows that the Germans had abandonned this position.

The best preserved, third emplacement.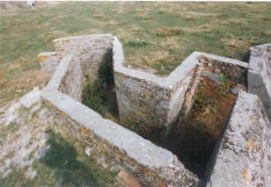 A view on the chicane shape entrance.
Present situation.
The first emplacement is a ruin, the second is filled with bricks, the third is the best preserved. The forth has the peculiarity of being uncovered and having two cellar niches near the middle of the emplacement.
The only bunker is a 51a.
To visit, ask permission at the nearby farm because the battery is situated in a cattle field.