Natya Class Fleet Minesweeper/Layer
Russia, Export
- Thanks to 'Werewolf'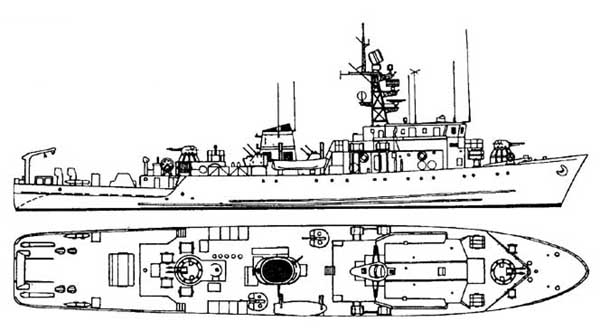 An ocean going Minesweeper, the Natya is used to defend the Russian fleet from the most modern of mines. As with most minesweepers, the Natya class is wooden hulled, to defend against magnetic mines.
| | |
| --- | --- |
| Price: | $ 850 000 |
| Travel Move: | 18/18 |
| Fuel Cap: | 4 800 |
| Fuel Consum: | 31 |
Armament:
2x 30mm Autocannons, 2x 25mm Autocannons, 2x RBU Launchers, 2x Twin Grail Launchers
Config:
Vessel
Tonnage:
873
Ammo:
2 500x 30mm, 500x 25mm, 25x 230mm SSM, 10x Grail SAM
Propulsion:
2x Diesel Engines to 2x shafts
Fuel Type:
G, A, D
Length:
61 meters
Draft:
2.8 meters
RADAR Sign:
2
Speed:
10
SONAR Sign:
2
Turn:
1
Hull Armour:
8
Acceleration:
1
Waterline Armour:
10
Pumps:
8
Superstructure Arm:
8
Night Vision:
White Light, Radar, HF Sonar
Size:
2
Load:
242x Mines
Full Speed:
20 boxes (ea. box = 15 float. hits)
Min/Opt Crew:
10/60
Dead In Water:
20 boxes (ea. box = 15 float. hits)
Mnt:
14
Sunk:
20 boxes (ea. box = 15 float. hits)
Osa Class PGG Fast Attack - Missile
Russia, Algeria, Bangladesh, Bulgaria, China, Croatia, Egypt, India, Iraq, Libya, Pakistan, Poland, Romania, Syria, Vietnam, Yemen, Yugoslavia
- Thanks to 'Werewolf'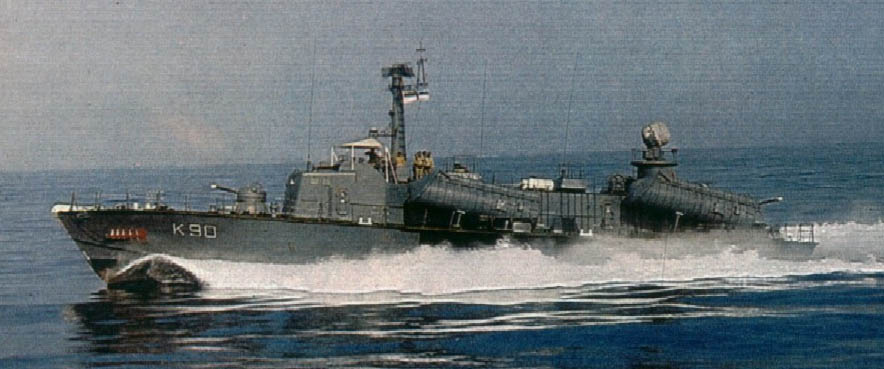 A common Russian craft, the Osa earned its claim to fame in the Eastern Med. When the Israeli Destroyer INS Eilat was sailing off the coast of Egypt, it met with a 4 boat flotilla of Egyptian OSA's. The battle ended with the Israelis swimming home and a bright young Arab Lieutenant promoted to Captain.
The Osa is a simple design that any nation can build, and many did.
| | |
| --- | --- |
| Price: | $242 000 |
| Travel Move: | 24/24 |
| Fuel Cap: | 4 000 |
| Fuel Consum: | 200 |
Price:
$ 242 000
Weapon
ROF
Rng
Ammo
Damage
Pen
Travel Move:
24/24
30mm
5
250
API
16
5/1/-2
Fuel Cap:
4 000
250
HE
C:1, B:2
-6C
Fuel Consum:
200
Armament:
1x 30mm Autocannon

2x Komar Missiles (see variants)

Config:
Vessel
Tonnage:
160
Ammo:
500x 30mm
Propulsion:
3x Diesel Engines in 3 shafts
Fuel Type:
G, A, D
Length:
128.7 meters
Draft:
1.6 meters
RADAR Sign:
3
Speed:
10
SONAR Sign:
3
Turn:
3
Hull Armour:
10
Acceleration:
2
Waterline Armour:
10
Pumps:
4
Superstructure Arm:
10
Night Vision:
White Light, IR, Radar, Sonar
Size:
2
Load:
4x Mines
Full Speed:
20 boxes (ea. box = 3 float. hits)
Min/Opt Crew:
11/30
Dead In Water:
20 boxes (ea. box = 3 float. hits)
Mnt:
10
Sunk:
20 boxes (ea. box = 3 float. hits)