Charles De Gaulle Class Aircraft Carrier
(CVN R91)
France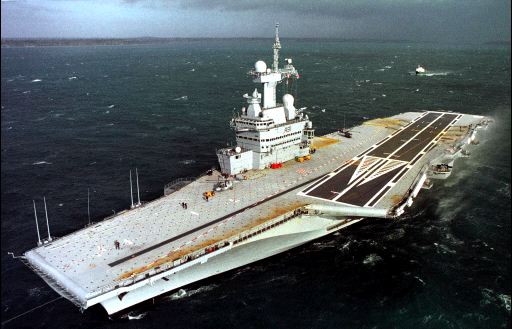 France's introduction to the nuclear powered carriers were not as was hoped during the design stage. Many problems plagued the nation as it struggled to built the expensive ship. Two were originally planned (FS Richelieu or Clemenceau), but the Charles De Gaulle ran so far over budget it is not certain if another will be built. As well as delays, the De Gaulle is louder than expected, and has a much larger radar profile than first planned.
It is equipped with two (2) catapults.
| | |
| --- | --- |
| Travel Move: | 24/24 |
| Fuel Cap: | 5 000 tons of aviation fuel |
| Fuel Consum: | - |
Armament:
4x Octuple EUROSAAM Launchers;

2 Matra Sadral PDMS sextuple launchers;

8x Giat 20mm Guns

Config:
Vessel
Tonnage:
40 570
Ammo:
24x SeaSparrow; 30 000x 20mm
Propulsion:
Nuclear Propulsion (2 reactors) in 2 shafts
Fuel Type:
Nuclear
Length:
261.5 meters
Draft:
11.9 meters
RADAR Sign:
1
Speed:
35
SONAR Sign:
2
Turn:
.5
Hull Armour:
20
Acceleration:
1
Waterline Armour:
20
Pumps:
20
Superstructure Arm:
20
Night Vision:
White Light, Radar
Size:
6
Load:
See Below
Full Speed:
20 boxes (ea. box = 676 float. hits)
Min/Opt Crew:
750/1 950
Dead In Water:
20 boxes (ea. box = 676 float. hits)
Mnt:
100
Sunk:
20 boxes (ea. box = 676 float. hits)
AirWing
Jets
24 Super Etendard
2 E-2C Hawkeye
10 Rafale F1
Helos
2 AS 565 Panther or 2 AS 322 Cougar (AF)
Jeanne D'Arc Class Aircraft Carrier
(CVH R97)
France
| | |
| --- | --- |
| CVH R97 | FS Jeanne D'Arc (ex La Resolue) |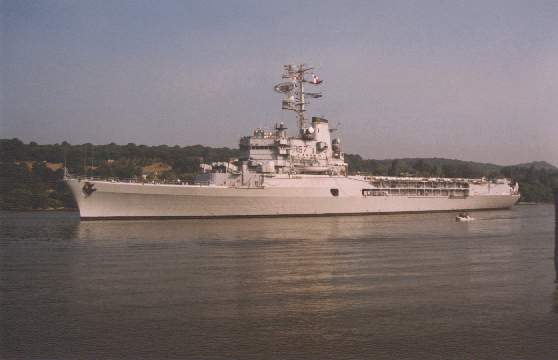 The 1960's built Jeanne D'Arc was to be transferred as a training platform once the Charles D'Gaulle was built. Due to the war, and the rough shape of the new CVN, the D'Arc was maintained as a combat capable platform. Air conditioned, the carrier also carries two small landing craft. It can be converted to a troop carrier in days, to carry commandoes or up to 700 men and equipment. The Army is well trained in helo ops with their own helicopters from the D'Arc.

| | |
| --- | --- |
| Travel Move: | 24/24 |
| Fuel Cap: | 10 000 |
| Fuel Consum: | 950 |
Armament:
2x Triple Exocet SSM Launchers,

4x 100mm Guns

Config:
Vessel
Tonnage:
13 370
Ammo:
6x Exocet SSM; 650x 100mm
Propulsion:
2 Steam Turbines in 2 shafts
Fuel Type:
G, A, D
Length:
182 meters
Draft:
7.3 meters
RADAR Sign:
1
Speed:
30
SONAR Sign:
2
Turn:
1
Hull Armour:
15
Acceleration:
1
Waterline Armour:
15
Pumps:
14
Superstructure Arm:
15
Night Vision:
White Light, Radar, Active Sonar
Size:
5
Load:
See Below
Full Speed:
20 boxes (ea. box = 223 float. hits)
Min/Opt Crew:
200/500
Dead In Water:
20 boxes (ea. box = 223 float. hits)
Mnt:
80
Sunk:
20 boxes (ea. box = 223 float. hits)
AirWing
Helos
4 Dauphin Helos
10 Super Frelon
12 Lynx