Purple Trillienth & her rider Healer M'lian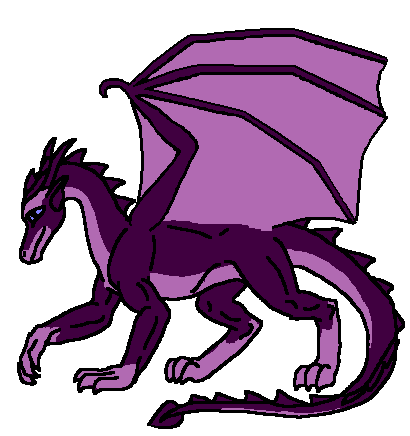 M'lian's Candidacy & Trillienth's Hatching
As time went on, M'lian and Trillienth's bond became even closer, and the folk of Ryslen grew accustomed to them working as a healing team. They knew Trillienth wasn't from Pern, but after a while, they didn't really care anymore. She was purple, She was M'lian's, and she was here to stay.
Trillienth was a very loving, and very loyal dragoness. No matter what happened, she was dedicated to the last.
When Texia returned with her green Remembereth from Baeris' Healing Den, M'lian was stricken. Texia had been a girl of six when he'd left to Starlite Isle, and now, a few turns later, was a lovely young woman of 18. M'lian knew he loved her, but with Trillienth by his side, and not a male dragon, he wondered how their love could ever be.
Do not worry, M'lian. Trillienth had said. Everything will work out right.
Time passed, and M'lian and Texia grew to be close friends, but M'lian couldn't bring himself to tell her of his love. It was too hard. Everyone expected male riders on female dragons to be after a male companion, but this didn't hold true for M'lian.
As Trillienth matured, she became rather motherly to the patients in her care, especially those who were soon to be mothers themselves. Nervous mothers relaxed with her there; a dragon wouldn't harm her or the baby, nor would anyone try to harm them with the dragon nearby. Even outside the weyr, this was true. Trillienth could be very protective.
M'lian took this all in stride. He knew his dragon was female, and would someday have the urge to rise and have a clutch of her own. It was only a matter of time. When the time came, M'lian vowed to accept what came his way, though he'd his own preferences. Better to accept and be satisfied...
When Trillienth started to become possessive of things other than her patients, M'lian started looking for an appropriate place for her to fly. It wasn't very long until Baeris' was suggested to him. "Wierd things happen all the time there," someone said. "Perhaps Trillie will find her match there?"
M'lian was okay with this. He'd ventured to Baeris' before for some advice from the masterhealer, and was very comfortable with returning there. Trillienth seemed to like it.
It took a little longer to jump to Baeris' than usual, but M'lian didn't care. They arrived safe & sound, and everything was as normal as it ever was at the Healing Den.
Trillienth is participating in
the Cross-Gender Frenzy at
Baeris Kshau's Healing Den.
M'lian's Stats

Gender

Male

Age

21

Hair

Pale Blonde

Eyes

Blue

Skin

Fair

Height

5'11"

Build

Athletically Slim

Rank

Jm. Healer

Birthplace

Jenir Plains

Residence

Ryslen Weyr

Trillienth's Stats

Gender

Female

Age

Adult

Size

Approx. 25'

Talent

Healing

Sire

?

Dam

?

Siblings

Clutch # ?

Birthplace

Starlite Isle

Residence

Ryslen Weyr
Note: Parentage & clutch information for Trillienth is unavailable because I can't remember, and Starlite Isle is undergoing some construction, and the records are unavailable.