Bunker modelling
Index
1. 20P7, Sechsschartenturm
2. Vf for 4.7 cm PAK 36 (t)
<![if !supportEmptyParas]> <![endif]>
<![if !supportEmptyParas]> <![endif]>
<![if !supportEmptyParas]> <![endif]>
The aim  was to build a model of a steel machine gun turret with 6 embrasures, a 20P7 Sechsschartenturm. 
The first thing I did, was to take  the measurements of an existing model.
Then I made a horizontal and  vertical drawing to a scale of  1/35th .
Then I started looking for a cylinder with the correct diameter.  I used a carton tube that is used for sending posters.  I copied the drawing of the embrasures on to it and cut them out.
Plasticine was put in the embrasure before I poured  plaster in it.  Probably the most difficult thing was rounding the cylinder.  You may not notice the junction between the two different materials, namely  the carton and the plaster.  For the periscope hole I used a spare wheel of a Spitfire on 1/72.
The bunker is a part of a 634.  I welded the walls and the roof and filled it with foam-plastic.
The only thing I still have to do is to create a diorama  with soldiers and/or vehicles.
<![if !vml]>
<![endif]><![if !vml]>
<![endif]>
The scope was to rebuilt the small Vf casemate for a 4.7 cm PAK 36 (t) in the port of Dunkerque in scale 1/35.
<![if !vml]>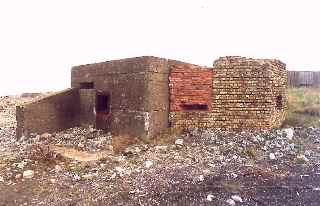 <![endif]><![if !vml]>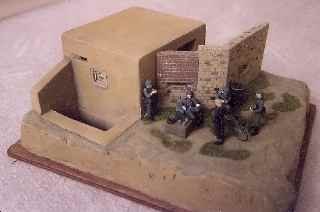 <![endif]>
The skeleton of the bunker is built with wooden shelves. Around I pasted self-drying clay. The reason why I used wood inside, was to save clay. The main problem was that this brand of clay crimps a bit, 1 mm on each side. Not much, but too much if you want that all pieces fit to each other.
But, before starting. Take all measures of the object : Height, length, width, distances between observation slits and embrasure, etc..
Return to WMF-home page