Ahmed Zewail currently is the Linus Pauling Chair Professor of Chemistry and
Professor of Physics at the California Institute of Technology, and Director of
the NSF Laboratory for Molecular Sciences (LMS).

Degrees
B.S. and M.S. degrees from Alexandria University, Alexandria , Egypt
Ph.D. degree from the University of Pennsylvania.

After the completion of his Ph.D., he went to the University of California, Berkeley, as an IBM research fellow.
Zewail was appointed to the faculty at Caltech in 1976. In two years he was tenured, in 1982 became a full professor, and in 1990 was honored by the first Linus Pauling Chair at Caltech.

Zewail holds honorary degrees from:
American University (Cairo)
Oxford University (UK)
Katholieke University (Leuven, Belgium)
University of Pennsylvania (USA)
Universite de Lausanne (Switzerland)
Swinburne University (Australia).

He gave more than one hundred named and plenary lectures, and he has been named the:
John van Geuns Stichting Professor at University of Amsterdam
Rolf Sammet Professor at Johann Wolfgang Goethe University
Christensen Professorial Fellow at Oxford,
Röntgen Professor at the University of Würzburg.

He served as Visiting Professor at the:
University of Bordeaux
Ecole Normale Superieure
University of California, Los Angeles
American University, Cairo
American University, Texas A&M
University of Iowa
College de France
Katholieke Universiteit, Leuven, Belgium.

For his contributions he has been widely recognized with honors which include:
Robert A. Welch Prize Award
Wolf Prize,
King Faisal Prize
Benjamin Franklin Medal
Leonardo Da VinciAward of Excellence
Röntgen Prize,
Paul Karrer Gold Medal
Bonner Chemiepreis
Medal of the Royal Netherlands Academy of Arts and Sciences
Carl Zeiss Award,
Hoechst Award
Alexander von Humboldt Award.

From the American Physical Society, he was awarded :
Herbert P. Broida Prize
Earle K. Plyler Prize,

From the American Chemical Society :
Richard C. Tolman Medal Award
Nichols, Medal
Linus Pauling Medal
E. Bright Wilson Award
Peter Debye Award
Nobel Laureate Signature Award
Harrison-Howe Award,
Buck-Whitney Medal.

From the National Academy of Sciences:
Chemical Sciences Award,

From Yale University :
J. G. Kirkwood Award

From the US Government:
E. O. Lawrence Award.

He was
Alfred P. Sloan fellow
Camille and Henry Dreyfus Teacher-Scholar
John Simon Guggenheim fellow.

In Egypt
In 1995 he received the Order of Merit, first class, from President Mubarak
In 1998 a Postage Stamp, with Portrait, was issued by Egypt.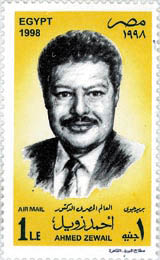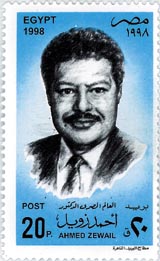 Member of:
The National Academy of Sciences (USA),
American Academy of Arts and Sciences,
American Philosophical Society,
Third World Academy of Science (Italy),
European Academy of Arts, Sciences and Humanities (France)
Board of Laser institute , Cairo University , Egypt
Fellow of:
The American Physical Society
Sigma Xi Society.