Krivak I Class Guided Missile Frigate
Syria
Merc: 2000, Dark Conspiracy
- Thanks to 'Werewolf'
| | |
| --- | --- |
| FFG | Saddain |
| FFG | Hassan |
| FFG | Sadat |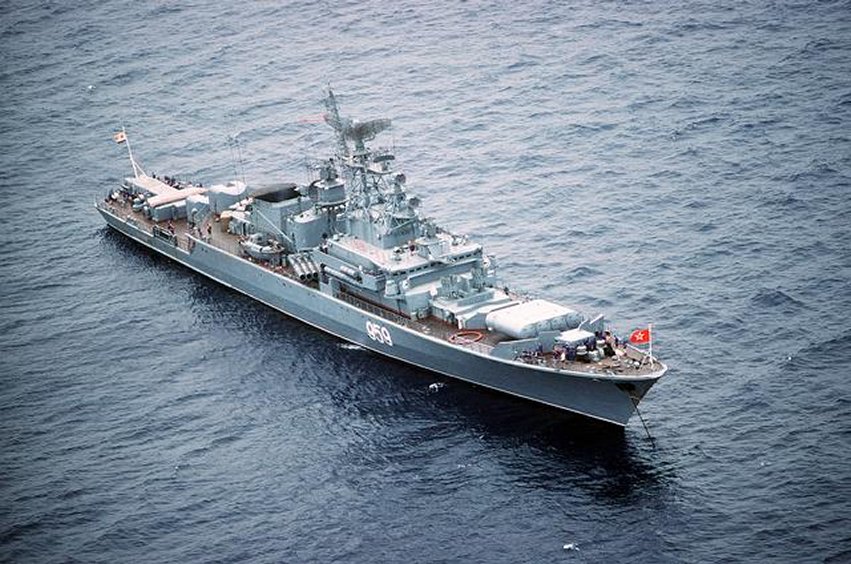 The first Russian ship with Gas Turbines instead of a diesel engine, this was at one time, the fastest frigate afloat, as it was designed to fight not only aircraft and surface vessels, but submarines as well. In the 70's the classification was changed from general purpose frigate to ASW. As there is no helo capability on the Krivak, speed is its best advantage.
Merc: 2000: When the USSR fell, Russia needed money immediately. The easiest method was to sell off its arms, and the Krivak went on the selling block. China bought several to back up their push from a brown water navy to a blue water navy. During the Conquest of Lebanon, the IDF sank 4 Krivak I's, and captured 4 in port.
Twilight: 2000: USSR kept on to their Krivak I's, and all are considered Soviet. Only Soviets and Chinese vessels have Nuc Weapons.
| | |
| --- | --- |
| Travel Move: | 23/23 |
| Fuel Cap: | 3 600 |
| Fuel Consum: | 400 |
Armament:
2x Twin 76mm Guns

1x Quad SS-14-NASM Launcher

2x Twin SA-N-4 Launchers

2x Quad 21" Torpedo Tubes

2x 12 barrel MUSS Launchers

Config:
Vessel
Tonnage:
3 700
Ammo:
600x 76mm, 8x SS-14-NASM, 14x SA-N-4 SAMs, 22x 21" Torps, 48x MBU-SSMs
Propulsion:
COGAG in 2 Shafts

4 GT's

Fuel Type:
G, A, D
Length:
123 meters
Draft:
4.6 meters
RADAR Sign:
3
Speed:
30
SONAR Sign:
5
Turn:
3
Hull Armour:
13
Acceleration:
2
Waterline Armour:
18
Pumps:
3
Superstructure Arm:
15
Night Vision:
White Light, IR, Radar, Active Sonar
Size:
4
Load:
12 Mines, 1 RHIB
Full Speed:
20 boxes (ea. box = 62 float. hits)
Min/Opt Crew:
55/200
Dead In Water:
20 boxes (ea. box = 62 float. hits)
Mnt:
35
Sunk:
20 boxes (ea. box = 62 float. hits)