Volkswagen Iltis - General Purpose
Canada, Germany, Netherlands
Built by Bombardier in Quebec, Canada back in 1986, the VW powered Iltis was a 'short-term' replacement vehicle, designed to fill a ten year period until a newer 'jeep' replacement could be found for the Canadian Forces.
Due to budget cuts, and the importance of other equipment, the Iltis soon became the Army's next Jeep, and thus was modified for a variety of military roles. The common passenger mod, ambulance, MP, comms and heavy weapon support (TOW) are all seen and used extensively within the field.
Germany purchased several in the mid 80's as well, though the Iltis never became its sole General Purpose vehicle. Although sporting a 75hp engine, the Iltis is fairly capable off-road, having a short wheel base and low weight.
| | |
| --- | --- |
| Travel Move: | 200/45 |
| Combat Move: | 45/10 |
| Fuel Cap: | 60 |
| Fuel Consum: | 20 |
Price:
$ 8 000 (R/C)

($ 25 000)

Combat Statistics:

Unarmoured Vehicle

RF:
NA
Armament:
Varies
Stabilization:
NA
Config: Sntd
Susp: W(2)
Ammo:
NA
HF:
1
Fuel Type:
G, A, D
HS:
1
Load:
600 kg
HR:
1
Vehicle Weight:
1.4 Tons
Crew:
2 + 3
Mnt:
2
Night Vision:
Headlights
Radiological:
Open
Western Star LSVW - Light Support Vehicle Wheeled
Canada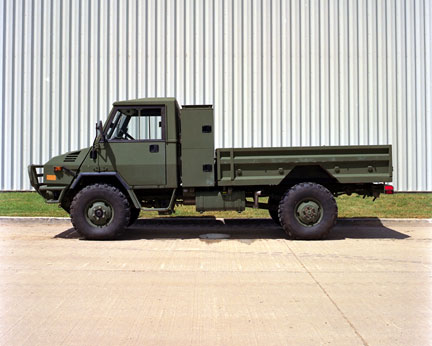 The infamous LSVW was one of the most problem-ridden projects the Canadian Forces ever faced. Having lowered their standards for a CUCV replacement, the CF tried a buy-out program similar to that of American General and the Hum-Vee. The problem was, instead of the Hum-Vee, Canada got the LSVW. The mid-90's ushered in the truck, where the CF had problems with the heaters, windows which fell out, and wheels which fell off the truck while driving. By spring 2000, many problems were worked out. The LSVW is available in flatbed, troop carrier, medical truck and Comms/HQ version.
| | |
| --- | --- |
| Travel Move: | 175/50 |
| Combat Move: | 60/15 |
| Fuel Cap: | 180 |
| Fuel Consum: | 45 |
Price:
$ 12 000 (R/C)

($ 28 000)

Combat Statistics:

Unarmoured Vehicle

RF:
NA
Armament:
Varies
Stabilization:
NA
Config: Sntd
Susp: W(2)
Ammo:
NA
HF:
1
Fuel Type:
D, A
HS:
1
Load:
1.5 kg
HR:
1
Vehicle Weight:
3.75 Tons
Crew:
2 + 7
Mnt:
3
Night Vision:
Headlights
Radiological:
Open