Giat AMX-30
France
- Thanks to 'Werewolf'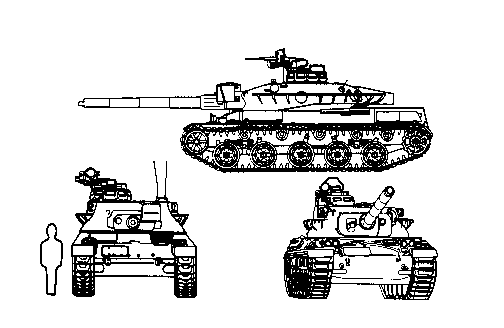 France's Main Battle Tank for many years since the 60's, the AMX-30 was replaced by the LeClerc, and then brought back into service during the Pan-Arab War and the Second Israeli/EU War. The AMX-30 is an exported tank as well, and is considered to be traditional, and not especially outstanding.
3 000 units were donated to the Quebec government by France during the Canadian Civil Conflict.
Price:
$ 750 000 (S/-)

($ 2 400 000)

Combat Statistics:

Armoured Vehicle

Fire Control:
+1
Armament:
105mm Gun, 20mm MG, MAG MG
Stabilization:
Basic
Config: Trt
Susp: T(6)
Ammo:
50x 105mm, 1 050x 20mm, 2 000x 7.62N
TF:
16
HF:
16
Fuel Type:
G, A, D
TS:
8
HS:
12
Load:
700 kg
TR:
8
HR:
8
Vehicle Weight:
36 Tons
Type
Round
Rng
Dam
Pen
Crew:
4
105mm
APFSDS
500
26
80/60/60/40
Mnt:
8
Rld: 1
APFSDSDU
500
26
100/90/80/60
Night Vision:
Headlights, IR
HEAT
400
C:6, B:15
80C
Radiological:
Shielded
WP
400
C:3, B:25
Nil
FLEC
400
1*
1-Nil
Giat AMX-30 B2
France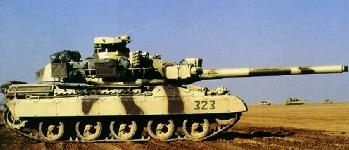 An upgraded model of the AMX-30, this MBT is used internally with France only. It has been fielded to supplement the LeClerc in frontline units. Notably, the armour has been increased, as has its fording capability and NBC survivability. The Fire Control has received an update as well.
| | |
| --- | --- |
| Travel Move: | 120/100 |
| Combat Move: | 60/50 |
| Fuel Cap: | 970 |
| Fuel Consum: | 250 |
Price:
$ 850 000 (S/-)

($ 2 500 000)

Combat Statistics:

Armoured Vehicle

Fire Control:
+3
Armament:
105mm Gun, 20mm MG, MAG MG
Stabilization:
Fair
Config: Trt
Susp: T(6)
Ammo:
50x 105mm, 1 050x 20mm, 2 000x 7.62N
TF:
20
HF:
20
Fuel Type:
G, A, D
TS:
10
HS:
16
Load:
700 kg
TR:
10
HR:
10
Vehicle Weight:
36 Tons
Type
Round
Rng
Dam
Pen
Crew:
4
105mm
APFSDS
500
26
80/60/60/40
Mnt:
8
Rld: 1
APFSDSDU
500
26
100/90/80/60
Night Vision:
Headlights, IR
HEAT
400
C:6, B:15
80C
Radiological:
Shielded
WP
400
C:3, B:25
Nil
FLEC
400
1*
1-Nil