Adults
Linith purred with pleasure, her eyes reflecting her emotion. Aren't they handsome, R'yon? she said to her rider.
R'yon looked up from his taks with a start. "Linith? You're not... are you?"
No need to panic, R'yon. It's not time yet. the white responded. R'yon wiped his hands and joined his white dragon on the ledge. She'd grown remarkably well. Her wings were as long as a green's but her body was slighter; more fragile looking, though R'yon knew better. His Linith was a ball of white-hot lightning. She could fly faster and further than any other white they'd met -- except for L'ken's white Releith. He was something else!
Ooooh... she said, eyeing a well-muscled blue. He'd be nice!
R'yon went pale. "Linith... do all the males you're interested in have male riders?"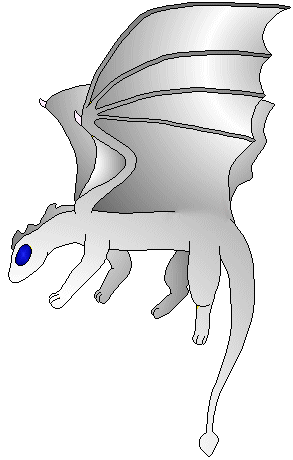 Linith shrugged in her draconic way. I haven't asked. Does that bother you? It does?! Linith's wings drooped, then perked up again. Don't worry R'yon. There's something due to happen that will make us both happy. There's a frenzy flight at Baeris'. It's only for dragonpairs like us.
R'yon looked at the snowy dragoness. "What do you mean, 'like us'?"
One girl, one guy. Linith said with a mental smirk.
R'yon was puzzled. "How do you know all this?"
Well, M'lian's purple Trillienth is signed up, and Drikara's Kulerth. Ooh! He is one fine piece of blue, that one! Linith said. Her praise was so much R'yon blushed when Drikara walked by. Ooh! You like Dri? I would never have guessed!
After a few moments Drikara returned and stopped in front of the ledge. "Hey R'yon!" she yelled "Come down here!"
Linith shook out her wings and R'yon climbed aboard and held on as his icy pale bond dove towards the ground. She landed neatly as you please, right in front of Drikara.
"How about that?" she laughed. "A'ndo was rihgt. Linith is nimble as a feline."
Better. Linith said smugly, including Drikara's blue so she'd hear too. Felines don't have wings!
Drikara smiled at R'yon, who smiled back best he could without blushing.
"There's something you wanted to talk to us about, Drikara?" R'yon prompted.
"Ah yes." Drikara said, "A quick message." She put her hand in her pocket and took something out. "A'ndo wanted me to tell you there's a meeting after evening meal in the Mountain Lounge." She tossed him something small - a patch embroidered with two capital 'M's intertwined with a capital 'W'. The Misty Mountain Wing.
"I'll be there." He said, then added, "Ma'am."
Drikara laughed. "See that you are -- and for your information, it's Drikara, Dri, or even Second - but never 'Ma'am'. That makes me feel old, and I'm not even 30 yet!"
R'yon grinned. 'Not like it's matter if you were!' he thought. Linith laughed softly within his mind. "See you then, Drikara." R'yon said, fingering the heavy patch. This was for his jacket.
Drikarasmiled. "Can't wait." She said, and headed off to the lake where Kulerth waited.
We have a place! Oh R'yon I'm so excited! Linith said.
"Me too Linith - but with you not chewing..."
No worries; you can use a Thrower like the queen and green riders do. That works good enough.
Linith was sure, but R'yon was skeptical