Religious Orthodoxy and the Military in Israel
by
Norman L. Zucker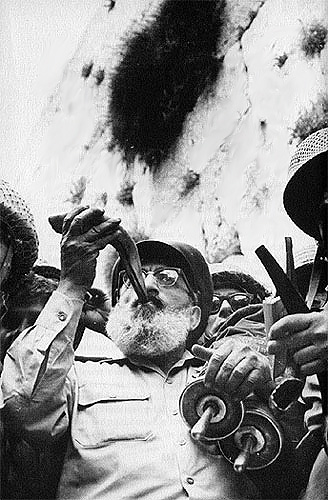 Chief Army Chaplain, Major-General Shlomo Goren at the Western Wall.
from
The Coming Crisis in Israel
Private Faith and Public Policy
1973
Chapter 10
Originally titled "Orthodoxy and the Military"
pages 146-151
MIT Press
ISBN 0-262-24018-1
Available from Amazon.com
---
The Israeli military forces are a strong factor in the education of Israeli youth, ranking alongside the public schools, since national service is nearly universal for both men and women. The military can, therefore, either reinforce or undermine those values that have been inculcated by the educational system and the family. It is for this reason that the Orthodox have fought for establishment in the military and battled in the Knesset over national service requirements.
Orthodox Judaism has become firmly established in Israel's armed forces. One of the first laws passed by the Provisional Government gave the ministers of defense and religious affairs the joint authority to ensure the supply of kosher food to the army. From this modest beginning there has developed a well-organized and staffed Military Chaplaincy Department. Chaplains and religious affairs officers (Orthodox personnel not ordained as rabbis) are attached to every large unit, and each such unit has a mobile synagogue that is properly equipped and contains a Scroll of the Law (Sepher Torah). Even submarines are provided with small holy arks and miniature Torah scrolls. The religious personnel are responsible for the supervision of Orthodox dietary practice, the organization and conduct of religious services and celebrations, and the enforcement of Orthodox norms of Sabbath observance. All kitchens in military units are kosher and are supervised by the chaplaincy. The idea of separate religious and nonreligious units is logist,ically impractical and psychologically undesirable.
Orthodox norms, such as those prohibiting smoking on the Sabbath and eating on the fast of Yom Kippur are prescribed by regulations and apply to all military areas. (The non-Orthodox violate these regulations with impunity in the privacy of their quarters.) All soldiers are required to participate in the devotional exercises prior to the High Holy Days (a practice some constitutional experts believe to be of doubtful legality).1 On major festivals the chaplaincy distributes even to the most remote frontier positions the religious objects associated with that particular holiday. Thus, the chaplaincy corps attempts to provide every squad with a shofar for the High Holy Days and a seder meal and matzot on Passover. Senior commanders make it a point to participate publicly in holiday celebrations, generally in an uncomfortable field camp, as much for morale and nationalistic reasons as out of religious conviction. Nonetheless, whatever the reason, their presence helps to legitimize the Orthodox chaplaincy.
The chaplaincy issues its own journal, prints a special prayer book to be read before going into battle, and supplies every soldier with a Bible. During combat, the chaplains are on the front lines for personal ministrations and to take charge of the dead. Aside from considerations of observance, the chaplaincy, formerly under the direction of Chief Chaplain, Major-General Shlomo Goren, has attempted to reconcile traditional halakhic norms with the requirements of technology, security, and modern military administration. Questions, for example, as to the nature and permissibility of work on the Sabbath have continuously cropped up. The halakhah, however, is flexible, and the traditional doctrine of pikuah nephesh (to save a human life one may go to any lengths and annul all other prescriptions in Judaism) has been freely used. In this regard the Military Rabbinate has been a force for the modernization of Orthodoxy. The chaplaincy has also acted to unify the various Jewish communities. Chaplains conduct prayer services according to a specially prepared unified order of service, thereby facilitating worship by military personnel coming from divergent Ashkenazic, Sephardic, and Oriental backgrounds.2
The formal incorporation of Orthodox norms into the military has not produced much secular-Orthodox conflict. This, however, was not the case with the issue of military service for females. In 1949 when the Knesset discussed the scope of the national service requirements, the secularists wanted to include both men and single women. However, the Orthodox strenuously opposed the drafting of women. Members of the United Religious Front warned the Knesset that military service was morally damaging to young women. A compromise was arrived at whereby Orthodox females could obtain an exemption from military service. But the secularists argued that this was a form of discrimination against non-Orthodox women and urged an amendment to the law so that religious women who refused to serve in the army would be assigned to some form of substitute national service such as agricultural work in a religious settlement or some form of public welfare work, nursing, or teaching. Nothing came of this attempt to equalize the obligations of Orthodox and non-Orthodox women. Some time later Ben-Gurion sought to have some form of alternate service for Orthodox women approved by the Knesset, but his urgings only further antagonized the Orthodox.3
In 1951, Ben-Gurion challenged the Orthodox by presenting to the Knesset a series of secularist bills, among them, an amendment to the Compulsory Military Service Law that abolished the exemption granted to religious females. Orthodox young women would, under the amendment, serve in military offices, farm settlements, hospitals, and other social and national welfare positions. The amendment offended Orthodox views of female modesty. Minister of Social Welfare Rabbi Yitzchak Meir Levin of Agudat Israel warned the Knesset that any amendment to the Military Service Law that infringed on the rights of the Orthodox would be disobeyed, even at the risk of imprisonment or execution. The Chief Rabbinate threatened that "the rabbinical court would ban the military amendment, a world wide day of fast would be proclaimed in protest, and Orthodox Jewry would 'fill the prisons in Israel with their daughters rather than comply with the law. . . .'" Rabbi Amram Blau, leader of the ultra-Orthodox Natore Karta, urged Orthodox females to commit suicide rather than accept conscription. Feelings ran high, and a few extremists went beyond rhetoric and attempted antigovernment action. The police foiled a group of fanatics who had plotted to blow up the Knesset and seized a small arsenal of weapons that were to be used by a minute band of zealots planning a "holy war." 4 The amendment, however, was shelved before coming to a final reading. Two years later, despite protests in Israel and abroad, the Defense Service Act was amended so that unmarried women aged eighteen to twenty-six who were exempted from military conscription on the grounds of religious objection were required to render equivalent national public service. The extreme Orthodox groups were incensed, but in fact they were not affected because relief from national service could be administratively granted for a number of reasons, including "a family's special way of life." The moderate Mizrachi factions were placated by the provision that during their period of national service religious girls were to be assured of an opportunity to maintain a religious way of life. And, as a modest quid pro quo for the secularists, the law provided that it was to be implemented by a minister designated by the government, which meant that the law was to be administered by the Ministry of Labor, a longtime Mapai stronghold.5 In actual practice, because of NRP objections, the 1953 National Service Law has never been applied. Nonetheless, many moderate Orthodox girls voluntarily fulfill their military or national service. The great majority of ultra-Orthodox girls, however, have refused to perform any national service.
Following the Six-Day War, military personnel requirements increased dramatically; the period of military service was extended and the frequency of reserve call-ups increased. In order to ease the resultant labor shortage in health, education, and welfare services, the cabinet in late 1971 decided to organize a form of volunteer service for Orthodox girls exempted from military service on religious grounds. This decision touched off a furore. Some moderates in the National Religious Party agreed to the proposal, others, recognizing that abuses had crept into the exemption privilege, agreed with the volunteer principle but opposed the establishment of any mechanism that would lead from voluntarism to coercion. The ultra-Orthodox remained unyielding. To them young girls belonged in the home. Religious extremists assembled at the Wailing Wall, blew the shofar, and prayed: "Our Father, Our King, repeal the evil sentence." The cabinet decision has not as yet been carried out, and the controversy over national service continues.
The conflict over national service for Orthodox girls is the only significant area relating to the military where there is secular-religious discord. Within the military itself, in contrast to other areas of public life, the Orthodox rabbinate's position is secure, unchallenged, and essentially uncontroversial. This difference, however, may be explained by a unique combination of factors. Israelis esteem the military and are unwilling to involve it in polemic; they are aware that to ensure survival and not jeopardize national defense the functioning of the military cannot be impaired, even in the slightest. The military rabbinate recognizes these facts and has proved more flexible than has the Chief Rabbinate in other areas of public policy.
back to top
---
Notes
1. Amnon Rubinstein, "Law and Religion in Israel," Israel Law Review, Vol. 2, No.3 July 1967), 412.
2. Reuven Alcalay, ed., Israel Government Yearbook 5728 (1967/68) (Central Office of Information, Prime Minister's Office, Israel: The Government Printing Press, 1968), pp. 111-112; Leo Heiman "Religion in Israel's Army," Jewish Frontier, Vol. 22, No.4 (April 1957), 25-27; Bernard M. Casper, "Religious Life," Israel Today, No. 24 Jerusalem: Israel Digest, 1968), pp. 15-17. For a discussion of some of the problems involved in establishing a unified service, see "Symposium: Can a Unified Code of Religious Customs Be Introduced in Israel?" Iggeret LaGolah, No. 64 (September-October 1957), 10-22.
3. Emanuel Rackman, Israel's Emerging Constitution: 1948-51 (New York: Columbia University Press, 1955), pp. 151-152; Joseph Badi, Religion in Israel Today: The Relationship Between State and Religion (New York: Bookman Associates, 1959), p. 27, Ben-Gurion also had to deal with the question of military service for Orthodox males who were studying in a yeshiva (talmudic academy). He solved this by entering into an informal agreement with Chief Rabbi Yitzchak Ha-Levi Herzog. Under this agreement those attending yeshivot were deferred as long as they remained full-time students. This understanding, based on instructions originally issued by Ben-Gurion, became standard government policy, although it never formally became law. In actual practice, the great majority—it has been estimated at about 90 percent—of yeshiva students at some point in their lives do some form of national service. Jerusalem Post Weekly, Overseas Edition, February 5, 1968, p. 9. The legality of the policy of deferring yeshiva students was challenged unsuccessfully in 1970. The High Court of Justice refused to consider the issue, ruling it was a purely political matter; ibid., March 2, 1970, p. 20.
4. Rackman, Israel's Emerging Constitution, pp. 151-152; Hal Lehrman, Israel: The Beginning and Tomorrow (New York: William Sloane Associates, 1951), pp. 101-104; New York Times, May 16, 1951, 13: 1; Alfred Werner, "Israel's Zealots in Gabardine: The "'Guardians of the City,'" Commentary, Vol. 11, No. 1 January 1951), 61-67.
5. See "National Service Law, 1953," in Fundamental Laws of the State of Israel, ed. Joseph Badi (New York: Twayne Publishers, Inc., 1961), pp. 311-313.
---
Web Editor's Note
This document has been edited slightly to conform to American stylistic, punctuation and hypertext conventions. No further changes to the text have been made.
This document is best viewed with 1024x768 pixel screen area.
Reprinted in accordance with U.S. copyright law.