Children of Palestine
by
John Pilger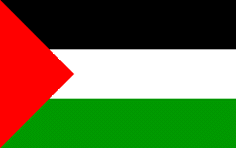 from
Distant Voices
1992
published by
Vintage Books
pages 321-324
this dispatch
June 28, 1991 to November 8, 1991
---
When the Middle East peace conference opened in Madrid last week, I remembered Ahmed Hamzeh, a street entertainer, and his young son. I met them in a Palestinian refugee camp on the occupied West Bank twenty-three years ago. It was a bitterly cold and wet Easter and the wind spun off the bare side of the valley and carried the stench of a sewer that overflowed and merged with mud.
Some 3,000 Palestinians lived in huts here, prisoners in their own land. Water trickled brown, if at all, from communal taps; and there were communal illnesses, such as gastro-enteritis, blindness and madness. There was no intifada then. The young were simply sick and passive. They went to a United Nations school; but mostly, like the adults, they went nowhere. They ambled up and down the camp's one street, through dust or mud. Or they huddled outside the administration block, where the melancholic voice of Oum Kalhoum, the beloved "Star of the Orient" washed over them.
Ahmed Hamzeh had been born in Haifa and his son in Jerusalem. Their Haifa home had long been appropriated by the State of Israel. In the stampede during the 1967 Six Day War the family had lost each other; the mother had been killed accidentally and a daughter had died from untreated pneumonia. Ahmed Hamzeh, who spoke good English, bought a monkey to survive. "You will forgive me," he said, "if after all these years. . .20 years I have been in this place. . .if I look like a peasant. I used to think I was an artist, not a beggar. Maybe I am not even a peasant now."
When I walked away from him, I noticed he was leading his son, who was about eight years old. I asked a UN man why the boy stumbled. "It's trachoma," he said. "In the early days it blinded hundreds of children in the camps." I remembered this moment when I read President Bush's opening remarks to the Madrid conference. "We have seen too many generations of children," he said, "whose haunted eyes show only fear. . .too many funerals for brothers and sisters, the mothers and fathers who died too soon; too much hatred." 1 Here was the President of the United States seeking to touch those of us who regard children as a precious resource and who believe that the interests and rights of children ought to lie beyond cynical manipulation. And here was the president at the same time demonstrating his benign neutrality, speaking of hope, not complicity. Unfortunately, the former was absent from this hymn of statesmanship.
The Palestinian writer Edward Said got it right. "US policies," he wrote,
are on trial at Madrid. The US has supported Israel politically and financially for the past two decades in complete violation not only of UN resolutions, but also of US laws and political principles. The US sent 650,000 troops to restore a corrupt and medieval Kuwaiti royal family, and has subsidised the Israeli military occupation of Arab territories to the tune of over $4 billion a year, and a total since 1967 of £77 billion.2
The Madrid conference is not as it is being represented: a coming together of intractables, with George Bush and his secretary of state in the middle "knocking heads together." The United States, regardless of James Baker's much publicised "impatience" with the Shamir regime, is firmly on one side—the side of American, Israeli and Saudi power in the region. Edward Said is close to the truth when he says, "My fear is that the US wishes to produce a cosmetic and 'pragmatic' track of negotiating proposals that will either give us nothing real or force us to abandon the forum." 3
The other night the BBC showed a remarkable film, Do They Feel My Shadow? made by Nicholas Claxton and Cherry Farrow.4 It was set in Gaza where the intifada began in December 1987. A sliver of land between Israel and Egypt, Gaza is home to 750,000 Palestinians, none of whom, says Claxton in his commentary, "can have an identity. . .where to sing a Palestinian song or to raise a Palestinian flag can lead to arrest and imprisonment."
And a great deal more. Mahoud Al-Ashkar is 11 years old. He was shot in the eye with an Israeli plastic bullet. His eye came out in his hand. Another eleven-year-old, Mahmoud Al-Hissi, was beaten so badly by Israeli soldiers that both his wrists sustained multiple fractures and an elbow was dislocated. The boy told UN relief officials he was stripped and hung up by his feet and clubbed. He was then taken to the roof of the building where the soldiers threatened to throw him to his death.
These are common cases. An official of the Swedish Save the Children Fund describes research conducted over two years with 14,000 cases of child injuries. She said the shooting of children was contrary to "official military orders," but there was a "second set of orders, understood by the soldiers." An Israeli colonel replied that the children who threw stones were dangerous in a way "that is inconceivable to the Western mind." He said his soldiers never aimed to kill children and, anyway, only shot at them as a last resort.
This was contradicted by the Swedish report, which concluded that only a quarter of the children shot dead were anywhere near a stone-throwing demonstration. Thousands of injured children were under the age of ten; hundreds were under five. "Most of them," said the Swedish researcher, "had been beaten on their hands and upper bodies. A third suffered broken bones, including multiple fractures."
Claxton quoted a UN report that put the number of children shot dead in the past three and a half years at fifty-six. Almost all died as a result of direct fire, not of random shots or ricochet. Not a single Israeli soldier had been imprisoned for the killing of a Palestinian child.
A boy called Jihad, who was himself beaten, described how his father was beaten to death by Israeli soldiers in front of him, his mother and two sisters. On the day the soldiers came to his home, he said, "My father took us into a room and locked the door. . .but they broke it down. . .the soldiers would take his head and hit it against the wall. . .The other soldier broke his truncheon on him. Then he said, 'Bring me a knife. . .he has to die.'" Later, Jihad saw his father's body and described it as "all dissected, his arms and his stomach." Four soldiers were tried, convicted of manslaughter and pardoned. The family has had no compensation.
Lulu is eight years old. A rubber bullet hit her in the brain. She is now a pretty vegetable whose family hug and kiss her, hoping in vain for a reaction. Apart from rubber and plastic bullets "like marble," the Israelis also have a stone-throwing machine that hurls 600 stones a minute. "It's our own intifada on wheels," said an officer.
Children in the Claxton film speak movingly, yet with a curious detachment. "We no longer fear," they said; and that life was a simple matter of "killing or getting killed." A Palestinian psychiatrist said the effect was that "the children take authority into their own hands. Their parents try to protect them, but no one can stop them."
In Gaza there is, as on the West Bank, an illegal Israeli settlement, including recent arrivals from the Soviet Union. Encouraged by the extremist policies of the Shamir Government and funded mostly from abroad, they live behind barbed-wire fences in what is described as "a location for the rebirth of pioneering Zionism." One of the children, thirteen-year-old Esther, was asked by Claxton if she had any contact with Palestinian children. "No," she replied, "sometimes when I go on the bus I see them going to school, but I never saw them particularly. I never talk to them."
---
Notes
1. The Guardian, October 31,1991.
2. The Guardian, October 30,1991.
3. Ibid.
4. Do They Feel My Shadow, made by Goldhawk Films, broadcast BBC 2, July 4, 1991.
---
back to top
About the Author
John Pilger, an Australian, has twice won British journalism's highest award, that of Journalist of the Year, for his work all over the world, especially as a war correspondent. For his documentary film-making, he has won France's Reporter sans Frontières, an American television Academy Award, an "Emmy," and the Richard Dimbleby Award, given by the British Academy of Film and Television Arts, for a lifetime's factual broadcasting. He lives in London.
Web Editor's Note
This document has been edited slightly to conform to American stylistic, punctuation and hypertext conventions. No further changes to the text have been made.

This document is best viewed with 1024x768 pixel screen area.

Reprinted in accordance with U.S. copyright law.

Alabaster's Archive