---
North of Ta Phraya
1.
Road Map (Surveyed)
2.
Series 1501 (edition 3, 1973)
3.
Links
4.
Bangkok Post Articles
---
1. Road Map (Surveyed)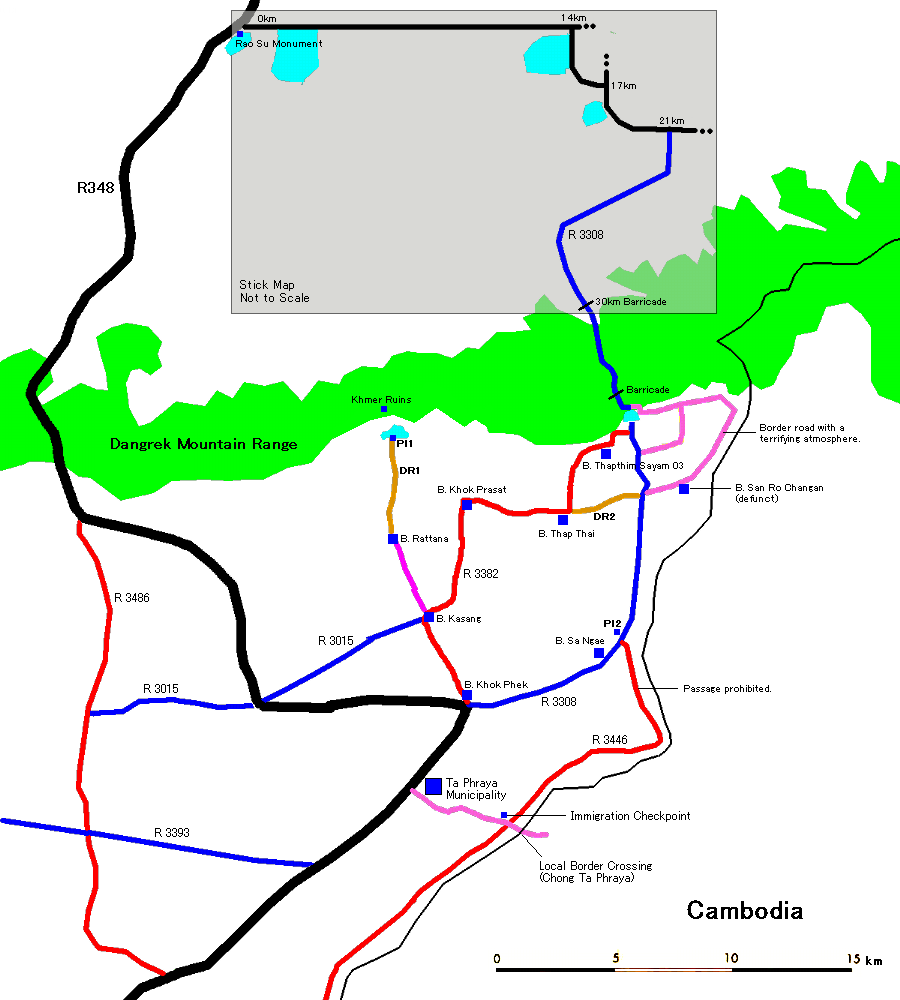 Dirt Road 1
This road is characterized by deep sand and crater-like potholes, making its passage difficult. Its users are mainly cattle herds and farm tractors. But the scenery along the road is interesting and, together with its curious end-of-the-road destination, well worth a visit for explorers.

Dirt Road 2
This road is easy dirt, but there's little of interest along the way. Somehow there's a signpost "R 3308."

Place of Interest 1


RATTANAKOSIN RESERVOIR
UN Border Relief Operation
Funded by the Federal Republic of Germany
1986

At the end of the dirt road is ramshackle Rattanakosin Reservoir. Its water level is low and it rather looks like a marsh. As in some other areas in Sa Kaeo Province, you can see earth-pillars around the reservoir.

Across the reservoir, up in the mountain, there is a minor Khmer Ruins Sanctuary (unconfirmed). The Tourist Map of Sa Kaeo, posted at major tourist attractions in Sa Kaeo Province, shows this Sanctuary (I failed to write down its name). The path to the Sanctuary is denoted by a dotted line, and you probably need to trek in the mountain with a local guide.

Place of Interest 2
Two white crosses stand near the R3308/R3446 junction. They are easily noticeable if you come from the north on R3308, but can be missed if you come from the south. Apart from the brief account I got from a local policeman "Christian... Farang... Died...," its story is unknown to the author.

R 3308
The core section of R 3308 crossing over the Dangrek Mountain Range is blocked with a barricade at both ends and its passage is restricted. Even local villagers must make a long detour on R 348 to get to the other side of the mountain. Innocent-looking tourists (including foreigners) may or may not be granted passage upon request at the barricade.

R 3446
This road is prohibited at the time of writing except for local residents engaged in farming. If you ever succeed in sneaking into this road, be prepared for interrogations by the police and/or army.

Ban San Ro Changan
From what I heard in Ban Thap Thai, this village has been deserted for some time (Forced relocation? Destroyed by border skirmishes?). Explorers may be tempted to search its old location, but this may be a difficult task.

Ta Phraya Municipality
There's a hotel on the southern edge of the town, adjacent to the road that goes to the local border crossing (purple line in the above map). 150B with fan, 250B with air-con. There's a Karaoke restaurant across the street and it can be noisy until as late as 2am.


---
2. Series 1501 (edition 3, 1973)
---
3. Links
Thai / Cambodia Border Refugee Camps
Thailand's Response to the Cambodian Genocide
Quote: "Throughout the one-year rule of the ultra-rightist administration there was a tendency to use all-out offensive operations against the Khmer Rouge forces by the Thai armed forces. Border clashes between the Thai and Cambodian forces, resumed quickly in early November 1976 and subsequently got much worse than in the pre-1976 coup period. Thanin claimed that between January and August 1977 Cambodian forces invaded Thailand more than four hundred times. The worst two incidents took place in late January 1977 and early August 1977. According to the White Paper issued by the Thai Foreign Ministry, during the night of 28 January 1977, around 300 Khmer Rouge soldiers launched a three-pronged attack on three villages of Ban Nong Do, Ban Khlong Kho and Ban Noi Parai in Aranyaprathet. The Cambodian troopers killed twenty-one Thai villagers, including children, babies and a pregnant woman. Some women were raped. All houses in Ban Nong Do village were set on fire. The Thai government sent a protest note to Cambodia, demanding the latter take responsibility and pay compensation to the victims. The Khmer Rouge, however, replied that the three attacked villages were inside Cambodian territory, implying that they could do whatever they pleased there.
The August massacre of Thai villagers took place in
Ban Sanlo Cha-ngan
,
Ban Sa-ngae
and
Ban Kasang
in Taphraya District of Prachinburi. The Khmer Rouge forces killed twenty-nine Thais. According to the eyewitness, the Khmer Rouge soldiers ransacked houses and killed every living thing, including women, children and even cattle."
---

4. Bangkok Post Articles



July 28, 1996
New labour policy will saturate Thailand with illegal immigrants
By ONNUCHA HUTASINGH and PRASIT SANGRUNGRUENG

(...) Smuggling aliens in from Cambodia is also a lucrative business. They enter through Aranyaprathet and Ta Phraya districts in Sa Kaew, Lahan Sai in Buri Ram and Nam Yun district in Ubon Ratchathani.

A 24-year-old Cambodian man said he had paid a human smuggling gang 3,000 baht and an additional 200 baht to a broker to be taken by pick-up truck from Poipet to work in Bangkok.

He earns 120 baht a day and is able to send between 17,000 baht to 18,000 baht to his parents in Battambang via the broker who helped him get to Bangkok.

His broker deducts 400 baht from every 10,000 baht he sends home.

The number of illegal Cambodian immigrants is rising.

An immigration officer at Aranyaprathet said 2,167 illegal Cambodian immigrants were repatriated through the Khlong Luek checkpoint between June and early July.

"But they came straight back the day after," he added.

Am Salai, deputy chief of the Thai-Cambodian Joint Border Committee Office in Poipet, said Cambodians who flee their country without passports or visas are breaking Cambodian law and must be jailed.

But he admitted that none of the illegal immigrants sent back home has so far been imprisoned.

Col Am, who is responsible for the repatriation of Cambodians, said he has warned local people to wait until Thailand officially allows foreign workers to be employed, and then enter the country legally. (...)


November 27, 1996
Khmers bandits seize councillor
Cambodian bandits on Monday robbed and took hostage a Sa Kaew provincial councillor and his family in Ta Phraya district.

Armed with AK47 assault rifles, ten men raided provincial councillor Wasant Ngernma's residence in Tambon Kho Khlan, Ta Phraya District at about 7.20 p.m. and took 10,000-baht in cash, valuables and electric appliances.

The bandits then took Mr Wasant and family members including Mrs Duangporn, Mrs Suan, Ms Uan and Ms Tu hostage while officers from the Ta Phraya Task Force and border patrol police pursued them.

The bandits released all the hostages some 600 metres from the village at 7.50 p.m. and escaped into Cambodia.


---

May 18, 1997
Battle against car theft syndicates
Border control forces, whose normal role is to stop the illegal trade in logs, war weapons and alien workers, find an increasing burden has been to end the flood of stolen luxury cars into Cambodia

SUPRADIT KANWANICH

Any Mercedes Benz sedan running along tracks or trails near the Thai-Cambodian border in eastern Thailand will, most likely, be promptly checked by border defence forces. It could turn out to be one of the 50 cars ordered from Thai car theft gangs to be sold to the nouveau riche in Cambodia.

Aranyaprathet Task Force commander Lt Col Suriya Pawaree earlier told Sunday Perspective an inteligence report revealed the order came from Cambodian syndicates, to be delivered in time for the Songkran Festival.

The dry season helps. Tracks are baked hard by the sun and make the hundreds of passes along the border - from Sra Kaew to Chantaburi and Trat - easier to drive on.

Lt Col Suriya said more Mercedes-Benz cars are lost in Bangkok, only to wind up as status symbols for the new rich in Cambodia.

The intelligence report was proven on March 22 when a stolen bronze Mercedes Benz sedan was stopped near an army roadblock. Near the border War Veterans Resettlement of Aranyaprathet district, the carnappers fled on foot into Cambodia.

Earlier, another Mercedes Benz that belonged to a brother of Agriculture Minister Chucheep Harnsawat was stolen from his residence in Pathum Thani and later found near Bang Prakong Bridge on Bangna-Trat Highway. A policeman assigned to the Car Theft Suppression Centre said the car's electrical ignition was malfunctioning.

The policeman said the car was stolen in the middle of the night with a homemade electrical ignition key system. Mechanics believed this later caused an electrical short-circuit.

The thief intended to drive the car on Sukhumvit Road to Cambodia. The possible roads from Sukhumvit road are to Sra Kaew province through Chachoengsao or to Chanthaburi. Another route is to Trat through Chon Buri and Rayong.

The police officer said he confirmed the order of 50 Mercedes Benz sedans from Cambodia when several suspected carnappers were arrested in February. The suspects engaged in a gunfight with officers who apprehended them while they were about to drive a stolen car into Cambodia.

The suspects said rich businessmen and senior officials prefer the latest C-Class models.

A few right-hand drive Mercedes cars are running in Pailin, a former stronghold of Khmer Rouge defectors and city rich in gems. Pailin is located on the border of Cambodia, opposite Chanthaburi's Pong Nam Ron district. The city is now jointly administered by Phom Penh and the Khmer Rouge.

If the vehicles are stolen from Thailand, Khmer Rouge defectors who find them return the cars to authorities on the Thai border, through the Phom Penh administrators, such as in Phnom Malai opposite Aranyaprathet.

Lt Col Khanit Saphitak, deputy commander of the Aranyaprathet Task Force which oversees security along the border of Aranyaprathet district in Sra Kaew province likewise confirmed the report regarding the order of 50 Mercedes Benz sedans.

Last year, the Burapha Field Force supervising the military task forces in Ta Phraya, Aranyaprathet and Klong Had districts of Sra Kaew retrieved 128 cars and 91 motorcycles smuggled to Cambodia. Thirty-one suspected Thai and Cambodian carnappers were apprehended in 21 gunfights.

A police major from Chon Buri came to ask the task force officials to trace his brand-new Mitsubishi Pajero Shogun model which disappeared from the front of his townhouse in Muang district. All military checkpoints and roadblocks near the border were put on alert for the stolen car.

The police officer also went to see someone in Lao-oy Village in Aranyaprathet, who was known for his connection with Thai and Cambodian carnap syndicates. However, the car remains missing until now.

The colonel said the task force is responsible for the prevention of illegal logs, war weapons and illegal workers from Cambodia and entering Thailand.

Three carnap gangs in Cambodia work with Thai counterparts in the Thai border villages of Ta Phraya, Kok Soong, Nong Chan, Angsila, Parai, Klong Luek, Kok Sabaeng, None Sao-eh, Klong Namsai, Nong Prue, Thab Prik, Klong Wah and Klong Had.

Four Thai car theft gangs are based in the border villages of Parai, Lao-oy, Thab Prik and Nong Prue. They also work with Cambodian syndicates.

The authorities know the key personnel, but there is inadequate evidence to warrant legal action against the suspects.

"One gang member is the son of a village headman in Tambhon Thakham. This boy completed vocational high school. He is actively involved in car smuggling," the officer said.

The colonel said that, as part of the car theft prevention programme, the task force has deployed a 24-hour-standby platoon to reinforce mobile and foot patrols. This, however, excludes border checkpoints and roadblocks, and in the connecting trails and roads.

A Border Patrol Police source said the Cambodian syndicate always sent 10 to 20 men armed with AK47 assault rifles and rocket-propelled grenade launchers into the Thai border to get the stolen cars. These people, he said, had frequent clashes with Thai border forces.

In March alone, four armed Cambodians were killed in several interceptions by Thai forces. A few BPPs were also wounded.

Thai and Cambodian runners use the plant cover along the border to conceal the stolen cars. The border area is made up of abundant fields of tall grass, sugarcane plantations that grow right to the edge of the border, eucalyptus plantations, and community forests.

"At the border in Ta Phraya district, the car theft gangs can drive into Cambodia on off-trail routes or roads through open forests. The main road along the border is about 500 to 800 metres from the common borderline. In some cases, it is only 70 to 80 metres away," the source said.

A local source told Sunday Perspec tive that Cambodian car theft syndicates are well-protected by the Phnom Penh powers, from either the Hun Sein or the Khmer Seri factions. Many syndicate members paid the faction so they can become government officials.

The source said the Khmer Rouge (KR) faction - after the recent defection to the Phnom Penh administration - frequently exchanged heated words with the Hun Sein and the Khmer Seri factions. This was caused by the KR's application for permission to do anything, it had to do so from the administration. Other factions, however, did not have to seek permission.

The KR faction do not believe that other factions are involved in car thefts in Thailand. They say the activity is humiliating and lessens dignity. They say they return stolen cars to Thai authorities if they find any in their areas of responsibility.

The Hun Sein and the Khmer Seri factions are involved in gem mining and in businesses previously run by the KR.

The Khmer Seri still wields power and influence in areas opposite Ban Nong Chan north of Aranyaprathet while the Hun Sein faction controls Poi Pet, opposite Aranyaprathet. Meanwhile, the KR controls areas opposite south Aranyaprathet.

The source said the Thai and Cambodian syndicates smuggle cars on weekends, when senior officials in both countries go on leave. This leaves minor officials who fear making making a decision.

Cambodian orders range from small motorcycles to 10 wheeled-trucks.

"Thai villagers living along the border buy one (or two at a time) legally-registered motorcycles. These disappear into Cambodia," a source said.

Earlier, several teachers of Sra Kaew province bought motorcycles under the Education Ministry's installment programme. These were later sold to Cambodians for a lump sum of money.

The BPP in Aranyaprathet confiscated 13 legally-registered motorcycles at the border in Chiang Mai and Samut Prakan. The BPP had to return the vehicles when villagers later claimed to have bought these, and were still waiting for heir ownership transfer papers, which were being processed.

"If you find your stolen car in Cambodia, you can have it back but you have to pay the owner more than the amount he paid for it," the source said.

Soldiers and policemen were able to retrieve some of the missing cars after insurance companies had paid the owners. Thus, the owners do not care about claiming their cars back anymore.

Car theft syndicates use various tactics to smuggle stolen cars, even in the rainy season when the all secret passes are impassable. With 20 men to drag the car on woodplanks over muddy trails, they get into Cambodia even in impossible weather.

Sometimes, Thai authorities have to request the military to use their APCs (Armoured Personnel Carriers) to tow the stolen cars back to Thailand.

The source confirmed the existence of a group of at least 10 armed Cambodians who provide protection for carnappers from either country. Clashes with Thai border forces are inevitable.

However, Cambodian authorities claim these armed men are bandits and Thai authorities may take harsh action against them.

"A colonel in the Cambodian Army earns about 700 baht a month. Our Army private earns much higher," the source said.

Why are many cars in Cambodia without license plates or registration stickers? The source said the faces of the drivers serve as passes for Cambodian authorities.

Thai and Cambodian authorities are in the final steps of opening the border at Aranyaprathet and Poi Pet permanently. If so, cars registered in Cambodia could come into Thailand.

"What will happen if Thai owners find their stolen cars under Cambodian registration inside Thailand?" the police source said.


July 10, 1997
Ranariddh loyalists try to regain Siem Reap
Hun Sen's soldiers hold the perimeter

Post reporters

Troops loyal to Prince Norodom Ranariddh were fighting to regain the northwestern city of Siem Reap from Hun Sen's forces yesterday.

As Hun Sen's soldiers held the perimeter, sporadic fighting was reported in the nearby district of Kra Lanh. Four of Hun Sen's tanks were spotting rumbling in that direction.

An official loyal to Hun Sen said Prince Ranariddh's troops planned to move the fighting to Siem Reap on a large scale. On Tuesday, gunfire rang out among the temple ruins of Angkor Wat as the opposing forces fought along the crumbling walls of the ancient former capital near Siem Reap.

With Hun Sen's failure to wipe out resistance in outlying provinces, hopes for a quick, complete victory seemed to be fading. An unknown but probably substantial number of refugees was expected on Thailand's doorstep as a result of heavy fighting between Sisophon and Poipet.

Fighting raged on Route 5, Cambodia's main lifeline, according to a report received yesterday from sources close to the prince's Funcinpec party.

Refugee movements had been reported since Monday, from areas believed controlled by Funcinpec soldiers north of Route 5, including Thamar Puok, adjacent to Ta Phraya, Prachin Buri.

In another development, Cambodia state radio played down the strife between the warring prime ministers and told Cambodians along the Thai border to conduct business as usual.

But if the situation got out of hand, they should seek refuge in Thailand, according to the broadcast from Poipet. It said the fighting was a military matter and people should not panic.

The broadcast came as Cambodian workers in Thailand headed home to care for their families caught in the thick of fighting as troops battled to control strategic provinces.

Many Cambodian workers were arrested by authorities at Aranyaprathet railway station for illegal entry and sent back across the border.

Meanwhile, a son of the Banteay Meanchey province deputy governor fled to Thailand along with other refugees. An army officer, he had been with Sisophon-based troops loyal to Prince Ranariddh.

He maintained he did not want to go to war with his own countrymen and refused to clash with Hun Sen forces in Battambang. "Cambodians, no matter what factions they belong to, are Cambodians," he said.

The Battambang governor, who has been made his enemy by the conflict, was his drinking pal. "There is simply no point turning the gun on your own people and friends." he said.

He said the Ranariddh-backed troops in Battambang had the capacity to counter-attack but refused to do so to prevent bloodshed.

The deputy governor's son said the safety of his family took priority over his military duty. He did not think the violence would escalate since Hun Sen would likely wait and see how the world community responds.

A fierce clash is expected in Sisophon as the advancing Hun Sen army is expected to reach the province early today.

Meanwhile, opposing forces had a tense confrontation at Tuek Tara, a small town 7km west of Sisophon.

Lt-Gen Vun Savoeun, Region 5 commander loyal to Hun Sen, reportedly negotiated with 5th Division commander Lai Veera to return weapons seized from Hun Sen's Cambodian People's Party.

He also demanded that Lai Veera hand over Funcinpec spokesman Seri Kosol who is believed to be in Thailand.

In another development, Hun Sen was reported to have despatched troops to block any links between Funcinpec forces and the Khmer Rouge.

Sok Pheab, leader of a dissident Khmer Rouge faction, said at his Phnom Malai base opposite Aranyaprathet he would remain neutral.

He predicted the fighting would end soon as soldiers loyal to Hun Sen control Phnom Penh, Siem Reap and Battambang. Neither side had foreign logistical support and the fighting should end in 10 days, he said.

Thai military sources said troops loyal to Prince Ranariddh have withdrawn from Sisophon to an area opposite Ta Phraya. All temporary border checkpoints in northeastern Thailand remain open as the battle in Cambodia has not yet affected border areas.

But the Second Army Region, based in the Northeast, is on full alert to deal with a possible influx of refugees and robberies.

Lt-Gen Surayuth Julanond, the commander, said the military has kept a close watch on Cambodia but there was no need to close checkpoints in Si Sa Ket, Surin, Buri Ram and Ubon Ratchathani.

The Suranaree task force and local police have also been cooperating on intelligence work, prevention of illegal entry and suppression of Khmer bandits along the border.

In Surin, villagers spotted 1,000 soldiers believed to be loyal to former Khmer Rouge leader Iang Sary, who had already defected to Prince Ranariddh, heading towards Siem Reap.

Security sources said these soldiers may join another of Prince Ranariddh's forces at Chong Jom, near Surin, to block Hun Sen forces from moving into the western part of the country.


August 3, 1997
Ranariddh's men allowed to stay here
Disarmed troops get shelter in Sa Kaew

Anucha Charoenpho and Wassanu Nanuam
Sa Kaew

About 350 Cambodian soldiers loyal to ousted Second Prime Minister Norodom Ranariddh were yesterday allowed to take refuge on Thai soil after they came under heavy attack by Hun Sen troops.

The soldiers of the deposed 12th Division commander Gen Lay Virak were disarmed and provided with shelter at an area arranged for them by the Thai military on Nong Chan-Sri Pen Road in Khok Sung sub-district.

The Thai military took their 190 AK and 31 M16 rifles, 41 RPG rocket launchers, 30 machineguns and a large quantity of assorted ammunition.

A military source said Prince Ranariddh's soldiers sought permission from Thai troops at 2 a.m. yesterday and allowed themselves to be disarmed.

To easily differentiate between civilians and soldiers, the area in which Ranariddh troops were accommodated is far away from the area where 3,338 Cambodian displaced persons were sheltered. The civilians, 2,640 of them women and elderly people, fled across the border to Thailand from three locations - Nong Chan, O' Bei Choan and District 5 - in Banteay Meanchey.

The average age of the Ranariddh soldiers was about 25 years. The oldest one was 51 and the youngest 12.

Most of the soldiers loyal to Prince Ranariddh said they would not give up fighting against Hun Sen. But they declined to answer when asked where their commander, Gen Lay Virak, was.

The source, however, said that the forces loyal to Ranariddh had virtually been disbanded because more than half of them had defected to the Hun Sen side.

Col Prayuth Chan-ocha, deputy commander of the 21st task force in Ta Phraya district, said about 700 Thai troops had been deployed at 28 checkpoints set up along the border in Khon Sung district.

The army will keep out of Cambodia's internal affairs, Army chief Gen Chettha Thanajaro confirmed yesterday following Phnom Penh's request for help in arresting Khmer Rouge leader Pol Pot.

Cambodian strongman Hun Sen recently urged Thailand to help in the arrest of Pol Pot and turn him over to an international tribunal.

Pol Pot was recently sentenced to house arrest by his former Khmer Rouge followers.

Gen Chettha also said the army would not take sides with the Cambodian government or the alleged alliance between Prince Norodom Ranariddh and the Khmer Rouge.

"We will do nothing in the internal affairs of Cambodia. We should remain neutral," the army chief said. Gen Chettha however did not rule out the possibility of considering Mr Hun Sen's request if the Cambodian government and its foreign ministry make a request.

Government spokesman Warathep Rattanakorn earlier said it was not the government's policy to allow Thai troops to hunt down rebels in Cambodia.

The army chief also confirmed that the recent trial of Pol Pot by his comrades who turned against him was not just a set-up. The video of the trial was aired earlier this week.

Mr Hun Sen had branded the trial a political farce.


August 4, 1997
Influx of refugees worries Thai villagers at border
Anucha Charoenpo
Sa Kaew

Thai villagers living near a refugee camp in Sa Kaew province fear some Cambodian refugees may engage in criminal activities while a health official is concerned about malaria and polio.

Thai authorities have set up a 10-rai temporary camp at Ban Nong Chan village of Khok Sung sub-district to accommodate about 3,300 Cambodian refugees who had fled fighting between warring factions in their homeland last week.

The camp is situated five kilometres from communities in Nong Chan and Ang Sila villages and only two kilometres from Non Mak Moon village.

Boonma Narnthong, 63, from Ban Nong Chan said that villagers felt uncomfortable with the refugees although they realised that the authorities let them in for humanitarian reason.

He recalled the situation years ago when the camps were full of Cambodian refugees. "No one dared to go out at night because there were Cambodian troops among the refugees and they often rob villagers at night," Mr Boonma said.

Recalling a similar situation, Mrs Yin Sommai, 58, from Non Mak Moon said some refugees once broke into her house and took away all rice, dishes, pots and spoons but she and the family members were not harmed.

Some refugees had also sought work in town for cheap wages, she added.

Thawil Iangpee, 48, from Ban Nong Chan said he feared that Cambodian troops who had fled into Thailand with other refugees might have hidden part of their weapons somewhere.

He said Cambodian soldiers among refugees used to rob Thai villagers almost every day and it only stopped when the refugees were repatriated.

Meanwhile, Yuphaphan Wanchaiwong, a public health official in Sa Kaew, said officials from the Ta Phraya Hospital, Khok Sung government clinic and the Red Cross had found dozens of malaria patients among Cambodian refugees at the temporary camp.

Health officials were seriously concerned about the disease as it could spread to Thai villagers living near the camp with mosquitoes as the carriers, she said.

Polio is another problem because Cambodian authorities had not vaccinated children against the disease. Health officials were vaccinating Cambodian children in the camp to prevent the disease from reviving in Thailand again, she said.


---


February 21, 1998
Thailand, Cambodia to reopen border checkpoint
Sa Kaew

Thailand and Cambodia will officially reopen a permanent checkpoint in Aranyaprathet next Friday to facilitate the transport of goods and people of the two countries.

The agreement was jointly made by Sa Kaew Governor Phuchong Rungroj and his Cambodian counterpart Duang Khaem, governor of Banteay Meanchey.

Local Thai and Cambodian authorities have pushed for the reopening of the checkpoint at Ban Khlong Luek-Poi Pet for seven years before the dream came true, said a border official.

Under the agreement, Khmers are allowed to visit or stay overnight in some border districts of Sa Kaew province, including Aranyaprathet, Ta Phraya, and Khlong Hat, and Khok Sung sub-district, said the Sa Kaew governor.

If the presence of these people does not pose a risk to national security, provincial authorities will allow them to travel freely to other districts.

Other nationals wanting to visit Thailand and other countries are allowed to use this checkpoint.

Thais who want to enter Cambodia via this checkpoint are allowed to visit only provinces bordering Thailand such as Banteay Meanchey, Siem Reap and Battambang, according to the agreement.

Banteay Meanchey Governor Duang Khaem said the Cambodian government agreed to reopen the border checkpoint on February 27 after the situation inside Cambodia returned to normal.


May 15, 1998
First batch of Cambodians return
Second repatriation has not been scheduled

Bhanravee Tansubhapol
Sa Kaew

The first batch of 196 Cambodian refugees living in Trat returned home yesterday under a joint effort between Thailand, Cambodia and the United Nations High Commissioner for Refugees.

The refugees, some of them Khmer Rouge relatives and most of them children, were loaded onto buses from Chong Khao Phlu camp in Trat to the border at Aranyaprathet district of Sakaew where they were received by UN officials and the Cambodian government to continue their journey to Poipet.

They stayed overnight yesterday at a reception centre in Sisophon before being sent to their settlement, mostly in Kampot, Banteay Meancheay, Siem Reap and Battambang.

Deputy Foreign Minister Sukhumbhand Paribatra, who presided over the ceremony, expressed hope that other Cambodian refugees would follow suit.

He said: "We hope that this is the starting point of the voluntary repatriation of all Cambodian displaced persons in Thailand."

They are among the first 600 refugees from Trat who have volunteered to go home with the hope of registering their vote for elections set on July 26.

Thailand houses 35,000 Cambodians in two camps in Trat who left their country after the coup in July last year which deposed First Prime Minister Norodom Ranariddh. More refugees stay in Surin and Si Sa Ket.

M.R. Sukhumbhand acknowledged that not all of them could return in time for voter registration but at least they would be back safely.

The registration will begin on Monday and lasts for three weeks.

Amelia Bonifacio, UNHCR regional representative for Thailand and Cambodia, said the second repatriation had not been scheduled until the UN agency assured the safety of the first group under the process which could take at least a week before the next group begins.

The returnees were provided basic household items at the Sisophon centre with assistance from the UNHCR and other international relief organisations.

Diplomats from the European Commission, Denmark, Holland, Norway, Australia, Canada, France, Switzerland and the United States were among the witnesses.

Prom Sukha, director-general of the Administration Department of Cambodia, guaranteed that the returnees would be safe and the Cambodian government would provide them with welfare.

"We have taken efforts to ensure that their safety and welfare will be assured," he said.

Phnom Penh hoped that the refugee problem would end soon, he added.

But Thep Lin, 38, a returnee from Samrong, said he had decided to return because of his desire to go home despite the fact that he was not sure about his future.

"Whether I will flee to Thailand again depends on the situation in Cambodia," he said while taking his wife and two children back to his country.

Security officials yesterday told the deputy foreign minister that fighting in Cambodia would not affect the election process and said areas under the control of the Funcinpec party would soon be taken over by government forces.

But fighting will continue in the Cambodian border opposite Ta Phraya district province because it was an area where Cambodians supported the royalist party, a source quoted them as saying.


September 1, 1998
Khmers flee fresh fighting
Sa Kaew

Some 1,487 Cambodians have fled across the border to escape fresh fighting between Phom Penh forces and troops loyal to ousted co-premier Prince Norodom Ranariddh.

The latest clashes, which took place over the weekend in the vicinity of the northwestern village of O'Bei Chan, opposite Non Mak Mun village in Khok Sung sub-district of Sa Kaew, forced hundreds of Cambodian civilians to pour across the border, said a Thai border official.

The Cambodians, comprising 342 men, 355 women, 390 boys and 400 girls, were taken to a temporary shelter near a border patrol police checkpoint some 4 km from the frontier.

Hundreds more are expected to cross into Sa Kaew's Ta Phraya district if the fighting intensifies, said the official, adding the fighting and the influx of Cambodians prompted the Burapha Task Force to seek reinforcements from the army.

During the two-day fighting, four royalist soldiers were wounded and taken to Ta Phraya hospital for treatment.

Kaew Chun, 53, leader of O'Bei Chan, who led the refugees to seek refuge on Thai soil, said it was the seventh time this year that his group had been forced to flee into Thai territory.

"Most Cambodian civilians lived in fear and were starving to death as a result of frequent fighting," he complained.

He blamed the two rival factions for destroying the lives of innocent Cambodians.

Earlier, some 520 Cambodians streamed into Nong Ya Kaew village in Tambon Thap Khiam, Ta Phraya district.


---

March 24, 1999
Mines cleared from village
Sa Kaew - A total of 848 mines and grenades have been cleared from a border village in Ta Phraya District since the Burapa Task Force's six-month demining operation there began in the middle of last month.

Col Walit Rojanapakdi, deputy commander of the 21st infantry special task, yesterday paid a visit to Ban Khao Luk Chang in Tambon Ta Phraya to examine mine clearance work on some 500 rai of public land in that village by the Burapa Task Force's technical team.

Since the operation was launched on February 19, a total of 234 anti-tank mines, 609 anti-personnel mines, five RPG grenades and 24 mortar rounds have been removed from the area already, according to Col Walit.


September 1, 1999
AK-47 killer shot dead during siege at border
Prasit Saengrungruang

A man wanted for murdering four local leaders after his request for 20 baht to buy methamphetamine was rejected, was killed yesterday in a gun battle with police and soldiers in Ta Phraya district.

Following a tip-off, about 150 police and soldiers from the Ta Phraya task force rushed to a deserted house where Ravee Phum, 41, was hiding.

Police asked Ravee to surrender but he opened fire. As the situation worsened, police asked people at a nearby house to move to a safer area. Two armoured cars were called to the scene and police cordoned off the house.

After the shooting stopped, Ravee was found dead inside the house. He had with him an AK-47 assault rifle and a shotgun.

The hunt for the suspect followed Sunday's killing of local leaders, including his uncle, in Tambon Thapsadet, Ta Phraya district.

Ravee, who appeared to be drunk, entered the tambon chief's house at 8.30pm on Sunday and opened fire with an AK-47 assault rifle at members of the village's rice bank committee. Four people were killed, including the assailant's uncle, Pradit Wongchamnian.

The killings reportedly stemmed from Mr Pradit's refusal to give Ravee 20 baht allegedly to buy a speed pill.


---
May 4, 2000
Enemy mine


LANDMINES: Thailand is home to almost one million deadly landmines, and a recent Bike Rally of handicapped persons and their friends pedalled its way to Surin to raise awareness of the problem and provide much-needed support for landmine victims

Story By CHOMPOO TRAKULLERTSATHIEN
Picture by SOMKID CHAIJITVANIT and CHOMPOO TRAKULLERTSATHIEN




Landmine victims, along with activists, pedal from Sa Kaew to Surin province to campaign for the banning of landmines. Along the way, the cyclists provided villagers living along Thailand's borders with information about landmines and the dangers they pose.
Vichien Wongsechumpa remembers vividly the tragic afternoon that changed his life forever. He was walking with three friends near the jungle next to the Thai-Cambodian border in Aranyaprathet when he heard a blast and saw a cloud of smoke.

Realising that one of them must have stepped on a landmine, Mr Vichien dashed in a bid to save his friends. But he had misjudged the situation.

His heart sank as he helplessly fell to the ground, realising it was he, not the others, who had just become the next landmine victim.

"I was overwhelmed with fear and quite shocked. When I came to myself, I looked over my body and found that my right leg's lower part was severely mashed and my foot was gone," recalled Mr Vichien, now 42.

Although the accident took place some 20 years ago, the event is still vivid in his memory and has left deep scars on his body.

"I lost my leg," he said softly.

"It was my permanent, great loss. The disaster kept me in distress for several years before I became stronger."

He added that he had tried to commit suicide several times but was saved by his friends who shared the same plight-Mr Vichien is not the only one who has suffered such a catastrophe.

For decades, innocent villagers along Thailand's borders with Cambodia, Laos, and Burma have been falling victim to landmines. Through the many years that have followed skirmishes along these borders, the sound of an exploding landmine has become all too common.

"We have become familiar with living in a crisis-ridden village. And though afraid, we don't know where to move. We have no choice in life. When setting out from home, we don't know what lies ahead. And we might not return home," Mr Vichien said.

"When we hear an explosion we know immediately that the number of the handicapped in our village will increase," he added.

According to the Thailand Mine Action Centre (TMAC), villagers living along the borders have long been suffering from landmines, some of them losing their lives, others becoming handicapped, losing arms, legs, or eyes. The Centre estimates that the number of landmines buried in Thailand is close to one million, covering a total area of five million rai in 48 districts across 18 provinces. And some 5,000 villagers have been injured or killed by the fatal weapon.

Other countries around the globe are also home to landmines and some of their citizens share the same plight. According to the Justice and Peace Commission of Thailand, every 22 minutes someone somewhere around the world is killed or maimed by a landmine. And there are 120 million landmines buried around the globe in 70 countries.

Some types of the underground weapon have a lifespan of over a hundred years. Others can periodically move due to flooding or torrential rains.

"Annually, some 26,000 people around the world fall victims to landmines. Most importantly and sadly, 40 percent of them are children," said Nittaya Kritsananondha from the Justice and Peace Commission of Thailand.

In August of last year, Mr Vichien recruited 166 handicapped persons from Sa Kaew province to set up the Handicapped From Landmines Network to provide victims with psychological and financial support.

In an effort to make Thais aware of the deadliness and power of landmines, as well as to boost the morale of landmine victims, the Thailand Campaign to Ban Landmines (TCBL), which includes three NGOs (Catholic Office for Emergency Relief and Refugees, Jesuit Refugee Service Asia Pacific, and Justice and Peace Commission of Thailand), in cooperation with the Thailand Cycling Club, staged a "Bike Rally: Journey for Peace" from April 27 to May 1 to call for a ban on landmines.

According to Father Vichai Phokthavi from the Thailand Campaign to Ban Landmines, the cycling project was aimed at commemorating landmine victims and to support the Ottawa Convention, which calls for signatories to stop using landmines, to destroy collected landmines within four years, to remove all buried landmines within a decade, to not internationally transport landmines, and to rescue those who have been maimed by landmines.

Thailand ratified the Ottawa Convention on May 1, 1999.

"We would like to empower the handicapped, to help them stand on their own. And the first step is to boost their morale and return their dignity by treating them like they are normal people," Fr Vichai said.

"We also encourage Thais to be aware of the dreadful landmine and to strictly follow the Ottawa Convention."

Participants in the Bike Rally included 26 handicapped people from the Handicapped From Landmines Network, 13 cyclists from the Thailand Cycling Club, and 13 others.

Wearing artificial legs, the disabled cyclists came from three districts and one sub-district in Sa Kaew province: Aranyaprathet, Klong Hat, Ta Phraya, and Kok Sung, respectively.

The cyclists began their journey at the district's police station on April 27 at 8 am and reached their destination in Surin province on May 1 at 8 am. The distance was about 259 kilometres. Along the way, the cyclists distributed brochures about landmines to villagers to create awareness of the landmine issue and of the Handicapped From Landmines Network and its support services.

The handicapped were assisted by veteran cyclists from the Thailand Cycling Club, whose leader used a variety of whistle signals to guide the rally and point out potential dangers.

"During the Bike Rally, we faced no difficulties. The road was good and convenient for the disabled to balance themselves on. They were really strong, because they had to ride the long distance and brave the sweltering heat," said Suthee Sawangjai, 34, who controlled the team.




Hundreds of border villagers have lost legs after accidentally stepping on landmines. Thanks to artificial legs provided by Aranyaprathet Hospital, some of the disabled were able to join the Bike Rally campaigning for the banning of landmines.
"We communicated with each other through the whistle. When I spotted holes or shards of glass, I gave a signal by pointing directly at the object. If I wanted to stop the whole rally, I simply raised my hand."

Apart from the beads of sweat, physical pain, and yes, the joy of it, the Bike Rally brought great delight to the handicapped who participated.

"I was very glad to have a chance to join the cycling project. Though I am disabled, I was able to bike long distances. The trip was full of joy and laughter as my friends and I competed with one another to cycle up hills. Eventually, many of us chose to push our bikes instead," said Chumnong Chin-no, who was maimed by a landmine some 10 years ago.

The bike rally also impressed the healthy cyclists.

Kasama Panswad from the Thailand Cycling Club was among those who enjoyed riding with the disabled.

"The disabled are not second-class citizens. They have had to deal with a misfortune, but they still belong to our society. We have to provide them with opportunities. I was delighted to spend my time talking with them and experiencing their inner feelings," Ms Kasama said while resting at Wat Mai Na Ngarm.

Before launching the cycling project, Ms Kasama and her team surveyed the route thoroughly to check the condition of the road and mark the stops where the cyclists could take a rest or a nap.

"We wanted to do something good. We may not have money, but we can spend our time and energy to help out."

Following the rally, "I found that most of the handicapped persons felt stronger and better able to cope with their handicaps," Ms Kasama said.

The tired cyclists rested or spent the night at local temples along the route. The evening meetings included discussions on the situation of landmines in Thailand, and the peril they pose. To entertain the group, Mr Vichien played a small keyboard and sang songs.

"We had a chance to talk with villagers about the great peril of landmines, and how we are all being put in danger. There are landmines all around us. They have become an enemy that can take our lives," said Mr Chumnong.

Mr Chumnong couldn't have been more right. He stepped on a landmine buried only about one kilometre from his house.

"We learnt the sad news that flood waters can carry landmines to other places. Unfortunately, many of them have moved nearer our farming lands and our houses. And we don't know where to find them, that is why the villagers may end up stepping on them," said Mr Chumnong.

After an explosion is heard, villagers rush to the scene to rescue the victim. Fearing that other landmines might be planted nearby, they drag the victim away from the scene with a rope tied around his or her leg.

All the handicapped dream of the same thing: To live in a village free from landmines.

Their dream might come true soon.

The Thailand Mine Action Centre was set up last year with the responsibility of removing all landmines across Thailand.

"We would like to walk around our villages freely and safely," Mr Vichien said.

"And we would like to make the best use of our farming land. If that happens, the land will not be our foe any more. And we border villagers can live in peace."



Fighting the war against landmines


Heamakarn Sricharatchanya

Several non-governmental and governmental organisations are working to rid Thailand of landmines and assist their victims, including:

Thailand Campaign to Ban Landmines (TCBL): Set up in 1997, the main responsibility of the TCBL is to support the Thai government's signing of the Ottawa Convention, which calls for:

- Banning the use of landmines.

- Destroying landmines held in storage within four years.

- Removal of all buried landmines within 10 years.

- Prohibiting the transportation of landmines across countries.

- Helping victims of landmines.

The TCBL is campaigning to raise awareness of the danger of landmines, and encouraging its members to dig up and destroy existing landmines and to help victims who step on them.

Organisations who are members of TCBL include:

- Catholic Office for Emergency Relief and Refugees (COERR): An NGO which has helped 573 villagers, coming from 144 families, who have been disabled from stepping on landmines in Aranyaprathet, Ta Phraya, Klong Hat, and in Kok Sung sub-district.

The organisation receives financial support from the Government Savings Bank's Social Investment Fund. The money is divided into two parts: the first to provide scholarships for children of landmine victims, and the second given as aid to families of victims to help them make ends meet.

Phone number: (037) 231-594 or (01) 306-7302.

- Jesuit Refugee Service Asia Pacific (JRSAP): An NGO which has a coordinator in Seoul, this organisation helps displaced people in the Asia Pacific region including Thailand.

Phone number: 279-1817 or 278-4182.

- Justice and Peace Commission of Thailand: An NGO which emphasises on human rights and peace. The organisation campaigns to have landmines banned.

Phone number: 277-4625, 275-7783.

- Thailand Mine Action Centre (TMAC): Aside from NGOs, the TMAC-established by the government-also plays an important role in the call for the banning of landmines. Founded in 1999 following the ratification of the Ottawa Convention by the Thai government, the TMAC serves as the centre for domestic organisations monitoring the situation of landmines in Thailand. In addition, the TMAC is also instrumental in digging up landmines across the country and then destroying them.

The TMAC provides information on landmines for villagers and assists landmine victims.

Phone number: 565-5202, 565-5206.


August 30, 2000
Mine Action Centre needs more funds
Foreign governments urged to render help

Saritdet Marukatat in Sa Kaew

The Thailand Mine Action Centre is not being allocated sufficient budget to carry out its work, upsetting its deputy chief.

Addressing a press conference, Maj-Gen Ronnachai Srisuworanan said he was seeking help from all directions, including foreign governments and non-governmental organisations.

"Please, we need help," he said.

For this fiscal year which ends Sept 30, the government gave the centre 16 million baht. Next year it will receive 40 million baht, although it asked for 120 million baht.

The centre needed a large budget because the equipment and tools for its work were expensive, Maj-Gen Ronnachai said.

The cost of a trained sniffer dog, for example, was one million baht. Because of the budget shortfall, the centre's plan to expand humanitarian de-mining centres from the present three, in the provinces of Sa Kaew, Surin and Chanthaburi, had ground to a halt.

Maj-Gen Ronnachai made the remarks after showing US ambassador to Thailand, Richard Hecklinger, around what is Thailand's first humanitarian de-mining centre, at Ban Nong Yakaew in Ta Phraya district of Sa Kaew.

The centre, which is receiving assistance from the US government, has cleared a 500sqm area of landmines-from a total mined area of 2sqkm-since it began work in July.

In the process, de-miners discovered two landmines and about 2,000 pieces of shrapnel from war weapons, according to Col Niran Pipithkul, deputy commander of the unit at Ban Nong Yakaew.

The US government over the past two years has contributed more than US$12 million to Thailand for training of de-miners, including sniffer dogs, as well as de-mining equipment.

But the US has not signed the Ottawa Treaty of Dec 3,1997, which bans the use of landmines.

Mr Hecklinger, the US ambassador, said the US did not sign the document because the "security needs" of US troops in South Korea required the use of landmines to prevent aggression from North Korean troops.

The Ottawa Treaty refused to give the US any grace period on this, he added.

But the US granted more help than any other country to the humanitarian aspects of de-mining all over the world, and hoped to sign the treaty before 2006, the ambassador said.

In Thailand, some 800sqkm of ground has been laid with mines, officials noted. In Ta Phraya district alone, landmines claimed 200 casualties during 1995-99.

Nong Yakaew is one of the most mine-infested areas in the country.


September 2, 2000
Mines: peacetime's greatest menace

In December 1997, two significant steps were taken to rid the world of the scourge of anti-personnel landmines. An international treaty was signed in Ottawa, Canada by 123 countries to ban these devices of mutilation and death, and the Nobel Peace Prize was awarded to the International Campaign to Ban Landmines and to its co-ordinator Jody Williams.

It was a triumph for humanity and common sense because there can be no justification for weapons of war which kill in peacetime and claim so many innocent civilians as their victims. But banning them through international law has not eliminated them. A piece of paper signed amid a blaze of publicity cannot do that. It takes continuing resolve and the willingness to commit large sums of money.

Both the determination and pledges of funding were present when the plans for de-mining were drawn up in 1998, but neither are as apparent today.

Other problems have surfaced leading to the diversion of funds to fresh priorities, with the result that the Thailand Mine Action Centre just doesn't have enough money to tackle the enormous task entrusted to it.

After limping by on a trifling start-up allocation of 16 million baht for the current fiscal year, it has seen its budget for next year cut from a requested 120 million baht to a mere 40 million baht-the cost of just 40 sniffer dogs.

This has made it heavily dependent on aid from the government of the United States. Even this contribution is proving to be insufficient and the Centre this week issued a global appeal for funds to sustain its work.

Its task is formidable. There are about 800 square kilometres of ground which have been laid with mines and in Ta Phraya district of Sa Kaew province alone, landmines have claimed at least 200 casualties in the past five years.

Thailand, like Laos, needs no lecture on the harm landmines can do in peacetime. Not only innocent villagers suffer. In one particularly heart-rending case a year ago, a cow elephant named Motala had her left foreleg shattered in a tragedy which attracted the spotlight of international attention.

We are not alone in our struggle against this menace. There are millions of mines scattered over 70 countries in Asia, Europe, Africa, the Middle East and the Americas.

The most severely affected countries are Cambodia, Laos, Afghanistan, Angola, Bosnia and Herzegovina, Croatia, Eritrea, Iraq (Kurdistan), Mozambique, Somalia, Sudan and Vietnam.

Over the last 55 years, anti-personnel mines are believed to have caused more deaths and injuries than nuclear, biological and chemical weapons combined.

Part of the reason for this is that a large number of victims are alone and in isolated places far from medical attention when they are wounded. A doctor working for the International Committee of the Red Cross (ICRC) estimates that up to 50% of mine victims die within hours of the blast. All in all, the ICRC estimates that 800 people are killed by mines every month worldwide and another 1,200 are maimed-a total of 2,000 victims a month and close to 25,000 a year. Of these victims, Unicef estimates that 5,000 to 6,000 are children.

The appeal for global assistance will reach sympathetic ears but because the problem is of global proportions, there just isn't enough money to go around.

Governments stand ready to spend vast sums on weapons of mass destruction, but not on clearing up after them. It is time we re-thought our priorities and gave our mine clearance workers all the support they need, financial and otherwise, to rid our countryside of these horrific devices. Those falling victim to them must also receive all the humanitarian assistance our authorities can provide.


September 6, 2000
It saves lives to watch your step
Wars end and the combatants return home. But too often they leave behind a deadly legacy, and those who fall victim are children, farmers-everyday people just going about their lives.

Saritdet Marukatat

It was hard enough to learn to live with the bullets and mortar rounds fired by Cambodia's warring factions and Vietnamese troops in those worrying days 20 years ago. Now villagers along the border with Cambodia must learn the probably more difficult lesson of avoiding being maimed or killed by landmines.

Before, villagers at least could hear where the firing was coming from, but the landmines are almost invisible and they are scattered all about.

The unseen worries the villagers, and even more so the deminers and relief workers as the Thailand Mine Action Centre (Tmac) begins clearing the mines from areas along the border.

Ban Nong Yah Kaew in Sa Kaew's Khog Sung sub-district is a good example of why officials are worried. The border village of 210 households was picked by the centre as its first site for clearance in the province because it is among the worst hit by mines.

Sa Kaew is one of 19 border provinces strewn with mines. In Ta Phraya district alone, where Khok Sung is located, about 200 villagers were injured in the five years to 1999 after stepping on mines.

Col Niran Pipithkul, deputy commander of the Sa Kaew humanitarian demining action unit based at the village, has seen villagers carelessly move a sign warning about landmines from one place to another when a mine was spotted at the second site. One villager found a hand grenade and took it to the unit for defusing, he said.

Villagers who lived through the fighting 20 years ago have been around landmines and other military hardware for so long that they sometimes overlook safety measures, said Col Niran. "They are aware of the danger but their degree of awareness might not be as high as we think."

Their familiarity with landmines is no surprise given their experience. The village was a war zone in the late-1970s and '80s when there was fighting between the Khmer People's National Liberation Front led by the late Son Sann and the Heng Samrin-led Cambodian government forces. Nearby is Non Mak Mun where Thai and Vietnamese forces fought pitched battles in the early 1980s.

The war ended a decade later and the troops left, but the landmines remain and there is still no sign that they will be removed any time soon.

Thailand's aim of clearing the mines in 10 years is widely accepted as improbable. And so educating people about landmines has become a major component of Tmac's work. To get the message across, staff meet villagers and distribute posters and information at border villages.

What really worries the deminers are the children; they are not as aware as their parents of the dangers of landmines.

"We target everybody with the awareness campaign but children are our priority because they play around and don't realise the consequences of stepping on mines," said Maj-Gen Ronnachai Srisuworanan, Tmac's deputy director-general.

Nobody can alert them as well as their teachers at school. They can influence the children and their parents. "Teachers are the best group to relay our message because they are respected," said Col Niran, who fought at Non Mak Mun 20 years ago.

"A common problem for the older villagers is how to treat casualties properly, and where to take the injured for medical treatment," he said.

The village is unsafe and officials cannot say when this will be remedied. The latest incident was a few months ago when a man stepped on a mine while taking his water buffaloes to the paddy field. Deminers have sealed off the field to the east of the village indefinitely.

Villagers have seen 500sqm cleared so far, but that took two months. Given the current pace with the deminers only lightly equipped, it could take hundreds of months to declare the 2sqkm area around the village safe from mines. But Maj-Gen Ronnachai said the mission would move forward more quickly when heavy and more modern equipment is available.

Non-governmental agencies involved in landmine clearance also say that mine awareness is crucial to safeguarding villagers. They also accept that it is the children who are most at risk.

"Children will tend to be the victims of landmines in the future," saidDuangkamol Ponchamni, a campaigner with Handicap International, a specialist agency based in Lyons, France. "Teenagers are another group we are concerned about."

But instead of relying on teachers to provide information, the Handicap International, which operates at border villages in Chanthaburi's Pong Nam Ron district, prefers to deal with villagers and children direct to make sure they understand and know how to avoid mines and treat any victims themselves once the agency leaves the area.

There is another group campaigners want to reach in an effort to support efforts to clear the country of landmines-city people.

They are seen as a powerful ally in lobbying government for more aid and other forms of support to make the border areas safer, quicker.

The problem is that city people do not know enough about the sufferings of people living along the border due to mines, according to Nittaya Kritsananont of the Thailand Campaign to Ban Landmines, an umbrella group of non-governmental agencies involved with mine awareness.

"We need to raise their awareness," she said.


October 23, 2000
Thieves shot dead heading for the border

Two armed Cambodian thieves were shot dead in Sa Kaew province early yesterday after they stole a motorcycle from a village in Ta Phraya district.

Kham Petkij, 40, reported to his headman about 1.30am that armed men had broken into his house in the middle of the night and stolen his Honda Wave motorbike.

Border patrol and local police, backed by an armoured car, formed teams with volunteers to prevent the culprits fleeing across the border.

About 3am, one of the teams came across five men crossing a paddy field about 150m from a border police checkpoint and 500m from the border.

The fugitives opened fire when challenged to produce identification.

Police reinforcements quickly arrived and the two sides exchanged gunfire for about 10 minutes.

Police waited until dawn to check the area. When the sun rose they found two dead men in the rice field, their hands still gripping AK assault rifles.

The other three gunmen were believed to have crossed safely into Cambodia, but they left the stolen motorcycle in the field.

The village headman, Thawee Unwimol, confirmed the dead men were Cambodians.

He said they had been seen in his village recently.


December 20, 2000
Sa Kaew farmers to boycott all parties

Sa Kaew-Ten farmer groups in Sa Kaew have decided to boycott all political parties contesting the election in the province, after no candidates showed up at a seminar held to discuss their problems.

The groups, comprising villagers affected by state development schemes, had invited candidates of four parties contesting in Sa Kaew to join their seminar held yesterday at Tako-Lam Sathon border pass in Ta Phraya district.

None of the candidates turned up at the seminar organised jointly by the 10 groups and the Assembly of the Poor.

Only deputy Sa Kaew governor Suraphol Pongthatsirikul and provincial forestry chief Pairote Chiew-iamwattana showed up at the seminar, attended by some 400 villagers from Ta Phraya, Wattana Nakhon, Khok Sung and Aranyaprathet districts.


---

January 20, 2001
Thailand leads way in clearing mines

Kraisak Choonhavan, chairman of the Senate foreign affairs committee, has suggested that the government might find it more productive destroying old weapons than buying new ones. Specifically he was referring to land mines, and the army endorsed those sentiments on Thursday by blowing up 21,131 of these horrific devices of death.

All praise to Senator Kraisak for his forthright approach and to the army for performing its duty by abiding by its obligations under the Ottawa Convention. The detonation of these mines at an army base in Lop Buri was the first of a series in which the same number will be blown up in March, April, May, June and August, with total destruction of the estimated stock of 380,000 mines expected by April 2003.

There can be no justification in this civilised day and age for such terrible weapons of war which claim so many innocent civilian lives in peace-time. Over the past 55 years, anti-personnel mines have caused more deaths and injuries than nuclear, biological and chemical weapons combined. This is because many victims are by themselves in isolated places far from medical attention when they are wounded.

The International Committee of the Red Cross estimates that at least 800 people are killed by mines every month worldwide and another 1,200 are maimed-a total of 2,000 victims a month and close to 25,000 a year. A frightening number of these are children who are even less likely to survive because their bodies are so vulnerable. If a child triggers a mine and lives, he or she will most likely lose one or both legs or arms and sustain serious injury to the abdomen and genitals. Shrapnel sprayed by the mine can also cause blindness and disfigurement.

Not only do these barbaric devices cause enormous pain and suffering, they reap a grim economic and social toll. In addition to the expense of medical treatment, and the cost to families of caring for injured relatives, they hinder the flow of goods and people and make large areas of agricultural land hazardous to farm, as has happened on our eastern border.

Land mines can be cleared, but only laboriously and at enormous expense. Getting rid of them, once planted, must rank as one of the most dangerous and highly-skilled tasks on this planet. That unwelcome burden has fallen on the Thailand Mine Action Centre, which is so under-funded that it is heavily dependent on aid from the United States and Norway. Sadly, because the problem is global in nature, there just isn't enough money to go around.

The centre's task is formidable. There are about 800sqkm of ground strewn with mines and in Ta Phraya district of Sa Kaew province alone, land mines have claimed at least 200 casualties in the past five years.

It was less than a decade ago that the international community grudgingly accepted the implications of a world studded with land mines and moved to get rid of them. Thailand won praise when it joined over 100 nations in signing the Ottawa Convention in December 1997 and went on to become the first country in Southeast Asia to ratify it in November 1998. The agreement took effect six months later, requiring the armed forces to destroy all mines they have in stock within four years and to remove any that have been laid in the ground within 10 years-coupled, of course, with a ban on future use.

Unfortunately this fine example was not followed by all our neighbours, and only Cambodia and Malaysia have signed the pact. Burma and Laos have refused, and Rangoon actively uses land mines, cloaking what should be a source of shame in the guise of "national security".

A few days ago, a truck driver was killed by a mine when he stopped to answer a call of nature on a road in Prachin Buri. Tragically, his death will not be the last.


May 21, 2001
Cambodian bandits abduct Thais

A Thai woman and her son have been taken hostages by Cambodian bandits for ransom.

Supien Yenprakhon, 38, her husband Wongduen, 29, and their son Don, one year and four months old, were abducted from their home in tambon Thap Sadet, Ta Phraya district, on Saturday night by seven armed Cambodian bandits.

Poong Chimmala, 50, a neighbour, was shot and wounded in the right hip when she pleaded with the bandits to leave the toddler with her. The three were taken inside Cambodia and Mr Wongduen was released yesterday to find the 1.5 million baht ransom for the freedom of his wife and son.

Mr Wongduen yesterday tried in vain to mortgage his land to get the money. He believed the bandits had taken his wife hostage because Veerachart, his wife's elder brother, failed to pay for cattle he bought from a Cambodian trader.

Mr Veerachart disappeared a month ago.


---

06 July 2002
Cambodia gateway

Sa Kaew _ Provincial and Cambodian authorities yesterday agreed in principle to extend the opening hours of the Aranyaprathet-Klong Luek permanent checkpoint to midnight.

The checkpoint closes at 5pm. The agreement was reached at a meeting led by Sa Kaew governor Somchai Chumrat. The two sides also agreed to open three temporary checkpoints: Ban Nong Prue checkpoint in Aranyaprathet district; Ban Khao Din checkpoint in Khlong Hat district; and Ban Ta Phraya checkpoint in Ta Phraya district.


08 September 2002
Gang shoot-out

Ta Phraya, Sa Kaeo _ Border patrol police have retrieved a stolen pickup truck after a brief gunfight on Friday with gunmen guarding a gang of car thieves.

Acting on a tip-off, police set up an ambush near a route known to be popular with gangs smuggling vehicles into neighbouring Cambodia.

Around 4.30am, police spotted a group of 10 armed men pulling a pick-up truck. They demanded to search the vehicle, but another group of men hiding nearby fired on them, prompting a 10-minute exchange. Both groups of men escaped into Cambodia.


03 October 2002
Cambodian pick-up thieves shot dead

Five Cambodian thieves were shot dead in an exchange of gunfire early yesterday while trying to smuggle a stolen pickup truck across the border.

Border patrol police manning a checkpoint in Ban Thap Siem village, Ta Phraya district, spotted the men trying to pull a Ford Ranger pickup across Sri Pen road into Cambodia's Bantay Meancheay province around 4.30am. They opened fire when police asked for a search.


---

12 January 2003
Interest in temple ruin perks up

Ownership claim spurs tourist inquiries

Sirikul Bunnag

Reports that Cambodia had claimed ownership over Sadok Kok Tom, an ancient Khmer temple in Sa Kaeo, has sparked a flurry of interest from would-be visitors.

Sa Kaeo governor Somchai Chumrattana said the province had struggled for more than 10 years to get tourists interested in the temple in Ta Phraya district, to no avail, until news reports of the claim emerged this week.

The government denies that Phnom Penh has formally claimed ownership, but reports saying it had shown an interest have nonetheless caught the public's attention.

Mr Somchai said calls had been flooding into the provincial office. Suddenly, Sadok Kok Tom was on the tourist map.

He was speaking on a visit to the ruin yesterday, accompanied by Culture Minister Uraiwan Thienthong.

The reports said Cambodia had also laid claim to Ta Muen Thom, another historic site in Surin's Kab Chueng district.

Mrs Uraiwan said Sadok Kok Thom was two kilometres inside the Thai border.

There was no way Cambodia owned it, even though the border was in dispute.

As for the Surin temple, the countries had to wait for boundary lines to be drawn before the issue could be settled.

Decades of fighting inside Cambodia have delayed attempts to demarcate the boundary. Officials will set the framework for demarcation in March.

The minister, whose home province is in Sa Kaeo, has told the Fine Arts Department to resume renovating the Khmer temple in Sa Kaeo and get it done by 2007. The job is only half done.

Plans to upgrade the temple in Surin had been suspended pending the outcome of the demarcation talks. Mrs Uraiwan said Phnom Penh had made no claim over the temple and said news coverage had been confusing.




05 July 2003
Youngsters on drug treks

Many young people in this province are crossing the border to Cambodia for drugs.

Sa Kaew governor Somchai Chumrat said local people were seeking border passes to enter Bantay Meancheay province of Cambodia only to take drugs.

The trend started in Ta Phraya district and Khok Sung sub-district and had recently spread to Aranyaprathet district.

Soldiers, police and customs officials in Sa Kaew are intensifying checks on young travellers who will be interviewed about why they are taking their trips and will have their urine tested on their way back. They will also be searched.

Many such young travellers were the children of rich families in border provinces. They usually visit discotheques in Cambodia and take drugs.

Col Prayut Chan-ocha, deputy commander of the Burapa task force, said Thai authorities would also ask Cambodian counterparts for help.