---
R 1080 . R 1081
4 years of blood, sweat and fears:
Bangkok Post Sunday magazine
December 9, 1973
John McBeth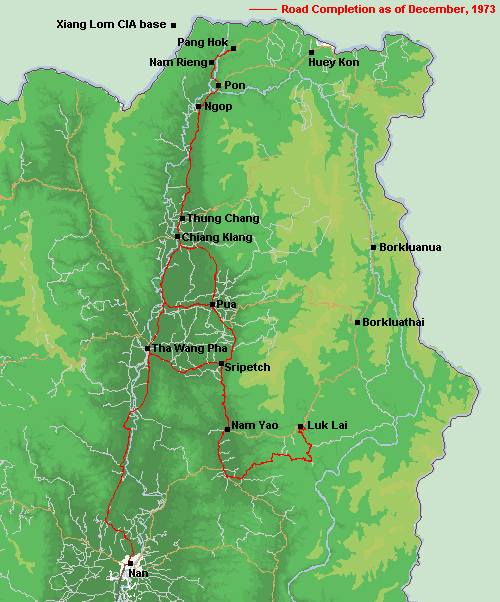 Two provinces with a common problem - terrorism.
In both Tak and Nan provinces of the North, harassment by hostile hill tribes has halted or severely disrupted work on building new roads.
Terrorism forced the Government to seek private companies to take over construction of these strategic highways, but it didn't make much difference.
Work on the Tak-Umphang Highway is stalled until the beginning of next year when a joint force of civilians, police and soldiers will provide protection. It will be the first time in Tak's history that the Army will be operating there.
Not so in Nan. For six years the Army has been conducting manoeuvres in this strategic region bordering Laos. Yet the sniping; the ambushes; the killings continue.
In the Tak story, an American graduate scholar reviews the manner in which the hill tribes became alienated from the local authorities.
While up in Nan, Post staffer John McBeth examines progress on a highway that carries a legacy of death.
It was one of the rare occasions that a journalist has been permitted to travel to the head of the road; six kilometers from the Laotian border, 10 kilometers from a CIA base, and 25 kilometers from Pakbeng, where communist Chinese engineers are pushing a highway along the Mekong River.



Nan


The paddies stretch away in a brilliant emerald carpet, finally merging with the deep blotched green of the hills.
Wisps of mist trail languidly across rolling slopes, filling the valleys, thickening to a ghost-like embrace over rugged peaks.
Villagers kick up puffs of dust along the edge of the red laterite road. Or ride sleepily atop creaking cartloads of yellowed hay, drawn by oxen with dead eyes and bony flanks.
The top of the Nan Valley, north of Pua.
North, it seems, of anywhere. On the threshold of Laos.
Where visitors are discouraged.
Where 150 soldiers and government workers have been killed over the past four years in efforts to breach the isolation of countless border villages.
A road construction program now almost at a standstill in the face of a terrorist threat that has ranged from nagging harrassment to naked savagery.
It began in the late 1960s as a grand scheme to build a ring-shaped highway swinging north from Pua through the once-threatened district centres of Chiang Klang and Thung Chang, east along the border to Huey Kon, south of Luk Lao, west toward Pua.
The southern end of the loop reaches only Luk Lai before guerrilla ambushers brought it to a halt.
Northern route pressed on past Thung Chang, but the danger signals were only too obvious.
Picking off soldiers and workers alike with mines and pin-prick attacks the terrorists finally struck earnest early last year, slaughtering 12 men in a single ambush.
The Government called an immediate halt to construction.
Troops sent in on a four-month clearing operation claimed to have killed 92 terrorists. But they also had setbacks of their own.
On May 23, 1972, guerrillas decimated a cavalry patrol with mines and automatic weapons fire, killing 14 and wounding 30 in what was then the worst government setback since the insurgent threat surfaced five years earlier.
It was not until August that authorities finally hit on the idea of bringing in a private firm to continue the road, believing - perhaps a little ignorantly - that the absence of officialdom would take off the heat.
The Italian-Thai Development Company won the contract - but only after losing out on its first choice: The ill-fated Mae Sot-Umphang highway in Tak Province.
The company tried a different approach. It hired local laborers as much as possible and called sessions with villagers to explain the benefits the road would bring.
It also sought a meeting with the terrorists. But as deputy managing director Mana Karnasuta recalls: "They didn't show up."
There were few experienced observers who thought they would.



Quiet beauty


Communist-trained cadres realise that a border road will not only hit at traditional infiltration routes into Thailand, but also weaken their influence among isolated villages.
On top of that must be the fear that it will provide a launching point for covert cross-border raids against well-established guerrilla base camps in the neighboring Laotian province of Sayaboury.
Intelligence sources believe it is here that the Thai National Liberation Front, assisted by North Vietnamese and possibly Communist Chinese advisers, maps out insurgency operations for the entire sweep of northern Thailand.
North of Chiang Klang, north of Thung Chang and Nan is a place of quiet beauty, more suited to tourists than terrorists.
It is the checkpoints, the barrier poles and the grim steel-helmeted soldiers that suggest what has gone before.
It is a place called Ban Pon, 104 kilometers north of Nan, 44 kilometers north of Pua, that speaks of what is now and what has yet to come.
The site of the Ital-Thai construction camp.
It sits near the bend in a muddy, fast-flowing river, a fortress more than a machinery park. A raised earthen perimeter, skirted by a double barbed wire fence, guarded by sand-bagged machingun posts. Lookout towers peering out over prefabricated offices, flimsy thatched huts and bright yellow earthmoving machinery.
A civilian security guard cradling a pump-action shotgun emerges from the main gates, ambles up the easy slope of the road and swings into the cab of a waiting dump truck.
The big vehicle dips down across a bailey bridge spanning the river, then climbs away into the jungle.
If the guard bothered to look 20 metres upstream, he would have seen for perhaps the thousandth time the remains of what was once a modern concrete bridge.
Perhaps it would have reminded him of a shattered illusion, fostered by a hopeful government only months before.
The terrorists came down from the hills on August 4 this year. At 2 a.m. in the morning, workers in the Ital-Thai camp a grenade-throw away came awake to the roar of an explosive charge detonating in the middle of the bridge.
According to official reports, the blast only weakened the structure. The rampaging floods in the weeks that followed did the rest.
On September 5, the guerrillas came again, hitting the camp itself this time with a rocket-propelled grenade and automatic weapon.
It was a brief attack and no one was hurt. But the message was clear.



Mine detectors


Now a nearby Thai artillery firebase slams a periodic 105 m.m. shell into the partly-jungled slope rising away from the camp, apparently in a half-hearted attempt to deter infiltrators.
Now too, Ital-Thai has been forced to rethink its position.
In past months, they have relied on a dozen armed civilian scouts to provide roughly-rehearsed security. As Mana puts it: "Their job is to go on ahead and see anything that doesn't look right. They only carry weapons to protect themselves.
The rest of the security staff is a herd of cows. Their task: to trigger newly-laid mines.
But with the most dangerous part of the road still to go, the company is obviously in a dilemma over the economics of a slow-motion time schedule and the safety of its workers.
Mana frankly admits that progress must improve if Ital-Thai is not to lose heavily: "On a terrorist-free highway with the same manpower we could produce much, much more. Here, what we estimate and what is actual is a lot difference.
Taking more risks appears to be the only answer. And that has meant sending half of the 200-strong labour force to Lampang for weapons training.
Mana is naturally reluctant to discuss the decision.
He says the hundreds of regular troops in hilltop outposts lining the road north of Pon are there to protect the bridges, not his workers. But it is obvious he is reassured by their presence: "We are happy to have them nearby in case of an ambush."
Ital-Thai has punched seven kilometers through the jungle since it was given the go-ahead a year ago - from Pon to the little village of Pang Hok, half a day's walk from Laos.
It will then take a right-hand turn and head towards Huey Kon in the crook formed by the Laotian border, along a route that has only been partly surveyed.
Infrequent shooting incidents and a tractor wheel blown off by a landmine is the evidence of ever-present terrorists harassment.
Ital-Thai has yet to take a casualty on this end of the project. At Luk Lai, where operations are at a standstill, one off-duty scout has been killed in a booby-trap explosion.
Two kilometers north of Pon and a secondary road branches off to the right, disappearing around a bend into the green mass of the jungle - the ill-fated government attempt to get to Huey Kon by a different and slightly shorter route.
Thirty men died on those four bloodstained kilometers, including the 12 ambushed earlier this year.
A young Ital-Thai employee glances out the car window and says: "No one goes up there anymore. We don't either."
As Mana explains later: "The road is all up and down. It benefits no one - only the military."
Two more kilometers and the metal dissolves into clay at a collection of stilted huts called Nam Rieng. Past here, the road is only partly formed - as far as Pang Hok.
A row of heavy machinery lies idle in the hot sun, a patch of congealed oil staining the surface of the road. Ragged-clothes villagers hunch in the shade, watching. Only the growl of an approaching truck cuts the silence. There is no work, it seems everyone is waiting.
Ten kilometers away over the silent northwestern hills is the valley of Xieng Lom, new nerve centre of the CIA; 25 kilometers northwest is the Mekong River settlement of Pakbeng, the end of another road - this time built by the Communist Chinese.
In between, a type of buffer zone populated by Laotian hill tribes and CIA-backed Thai irregulars.
They're taking bets whether Xieng Lom and its clandestine population will move into Thailand when the new Laotian Government is formed.
Who knows? In Nam Rieng, it doesn't seem to matter.
A group of soldiers in drab olive shoes trail up the road, automatic rifles slung carelessly over bent shoulders.



Insurgency


They don't appear to be expecting trouble, but they have taken casualties in this war of the flea.
As one young trooper puts it: "Only their names have come back."
Back in Chiang Klang, district officer Major Boonchu Ekkadistha looks up into those never-ending, mist-shrouded highlands and speaks ominously of a terrorist-inspired "political movement."
"We have no concrete evidence," he says, "but we know it's going on."
Across the road at the Nan-based Cavalry Division's forward headquarters, squadron commander Lieutenant-Colonel Chaaw Kongpoolsilt exhibits a certain frustration after returning from a combat-less operation: "I liked it better in Vietnam. At least there we could operate as a cavalry unit. Here I feel like I'm in the special forces."
The 300-man squadron has only been in Chiang Klang two months. It has yet to make contact with the insurgents. When it does, the officers are worried about getting air support. There are no T28s or A37s in their area of operation.
It wasn't always this quiet.
The terrorist troubles surfaced in March 1967 - about the same time as the Government stepped up its campaign to rid the hills of the opium poppy.
It began in Tambon Ngop, halfway between Thung Chang and Pon, then crept south into Chiang Klang, Pua and Thawangpha.
The army moved into the area in force, installing a string of outposts in the hills and clearing out their population of Meo, Yao and Thin ready for bomb and napalm attacks.
The Government took heavy casualties, but according to local sources the exact toll was kept secret because of the impact it would have on morale
Reporters visiting the provincial hospital found wards crowded with wounded. At the tiny Pua district hospital run by American missionary Doctor Garland Bare, a large preserving jar still displays the shattered foot of a soldier torn off by a booby-trap.
In February, 1968, six American Special Forces specialists moved into Nan's expensive Thevawath Hotel. Their mission: to train Thai troops in anti-guerrilla warfare.
The fighting reached a peak in 1968-69, then began to level off. It has dragged on ever since, but always at a level that has given this province the name of the hottest hotspot in the country.
In September, 1971, two Thai USIS employees were slain in an early morning ambush shortly after leaving Chiang Klang. The night before they had been showing anti-communist movies to local villagers.
Then came last year's two devastating ambushes - and the countless pin-pricks that all add up.