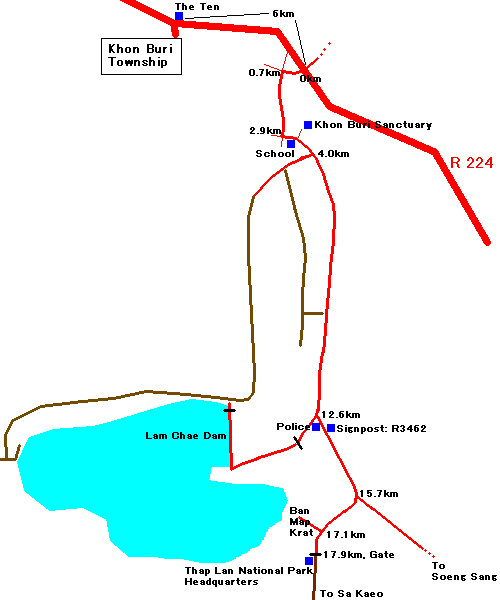 Trying to tackle the northern section of R 3462 is a complicated task. All through the route from R 224 to the National Park gate, I only saw one signpost R 3462 and I'm not quite sure where this road officially starts.

The Ten (Hotel)
This is a modern 4-story building with a karaoke bar on the ground floor. There's an annex motel behind the building with three secure parking spaces with a shutter, and this is quieter. Prices range from 200B with fan to 350B with air-con.

Km 0
This is a small intersection with no traffic light. There's a big sign in English, however, which directs to the Mun Bon Dam, Lam Chae Dam and Wua Daeng Cave.

Khon Buri Sanctuary
I regret I was too lazy to check this site out. There's a sign opposite the school, directing into a dirt road.

Road to Soeng Sang
This road leads to a vast network of agricultural roads, dotted with small villages. At the time of writing, you must at least do some dirt riding to reach Soeng Sang or get back to R 224 from this side.

Thap Lan National Park / Third Park Management Unit Headquarters
There's a gate with a lowered bar and a guard is on duty. Beyond the gate, R3462 turns into a dirt road. This is not a toll gate and you need a good reason -- probably a prior permit -- to pass through.